Toyota continues to dominate the global hybrid market, despite some level of challenge from the likes of Ford. Its chief vehicle in this king of the hybrid hill is the venerable Prius, which the Japanese automaker just announced has seen worldwide cumulative sales of the vehicle pass the 3-million mark.
The Prius, for being the face of the green car segment, is generally doing well for itself. It was just in October of 2010 when Toyota said the hybrid had passed the 2-million global sales mark. It is also a big part of the 4-million in global hybrid deployment the company saw just over a year ago.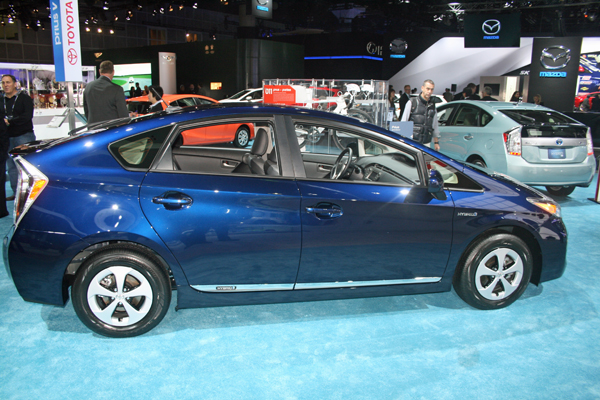 In 1997, Toyota said [PDF], it launched the Prius, which was the world's first mass-produced hybrid passenger car. The second generation followed in 2003 and the third generation in 2009. The classic Prius look was expanded in the most recent generation to include a more sporty model as well as one that's more family focused. North America now just barely eclipses Japan for regions of the world where the Prius sells best, with 1.335 million hybrids for the former and 1.325 million for the latter.
Interestingly, sales of the Prius look to be doing ok, though not always what Toyota is hoping for. Looking at North American sales for the second generation model, which was produced between September 2003 and December 2011, one sees that 683,000 cars went of showrooms. The third generation, by contrast, debuted in May 2009 and, to date, has seen North American sales of 600,000 units. For Japan this difference between second and third generation sales is even more dramatic, with 360,000 versus 899,000 cars showing how popular the most current offerings have become.
Toyota noted as well thhat since the first generation Prius came out, it has moved to make green technology more of a priority. To this end, it
has positioned hybrid technology as a core technology required for the development of various types of environment-friendly vehicles and has placed emphasis on the development and production of core components such as motors, inverters, batteries and electronic control units (ECUs), giving rise to substantial investment in Japan.

[Toyota] will continue to conduct R&D and invest in facilities in Japan for the development of hybrid and other cutting-edge technologies and achieve sustainable growth by deploying these Japan-developed technologies across the globe.

In the fiscal year ending March 2014, [Toyota] expects to spend a consolidated 890 billion yen (790 billion yen unconsolidated) on environmental technology development, as well as on strengthening new platform and major component development.
The investments Toyota has made here show to be paying off in sales of the Prius, as well as the fact it has applied for 1,261 patents relating to the third-generation model, greatly reduced the cost of the hybrid system by two-thirds and increased fuel efficiency from 28 km/L to 38 km/L.