Add Spain to the list of countries that have offshore wind power before the United States. And on this one the U.S. really missed an opportunity. (That's right, cool though it is, I have decided not to count that scaled-down 20-kilowatt floating turbine demo off Maine as establishment of U.S. offshore wind power.)
This is the real thing here, a turbine big enough to take advantage of strong, consistent over-water winds to crank out real energy – a 5-megawatt Gamesa model newly installed at the Arinaga Quay in the Canary Islands. It's a turbine that on an annual basis will produce an amount of electricity equivalent to what 7,500 households use, Gamesa claimed.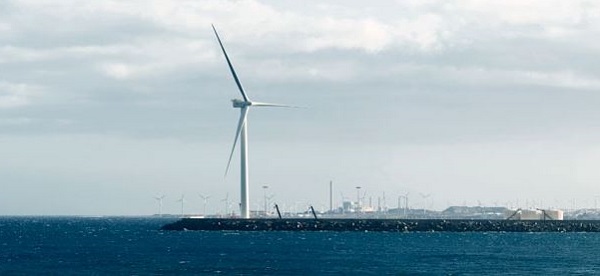 And to think: This Gamesa prototype was supposed to be plunked down off Virginia's coast.
Back in 2010, Gamesa had thought the U.S. might become a strong offshore wind market, so the company was setting up shop in Virginia, where it would deploy this 5-MW prototype. Reasonable thinking, given that the U.S. Department of Energy's much-talked-about scenario of the U.S. getting 20 percent of its electricity from wind by 2030 included 54 gigawatts of offshore wind power.
But by 2012, Gamesa had decided that, despite the Obama administration's best efforts – "Smart from the Start" and all that – a big U.S. offshore market was unlikely to develop soon. Or as the company put it: "The prospects for the U.S. offshore market and its regulatory conditions in this segment so far do not justify the next step, the installation of a prototype in the U.S."
So to the Canaries they flew.
Now, there is still hope for Virginia and the U.S. on offshore wind: The Obama administration last week announced a Sept. 4 lease auction for a parcel of around 112,800 acres offshore Virginia that could one day be home to 2,000 megawatts of wind power. This was the second competitive lease announced by the administration – the first, for two parcels off Rhode Island and Massachusetts, is scheduled to happen Wednesday this week – and while there's no guarantee that offshore wind power will soon arrive, the moves are a step in that direction.