If renewables are growing, as they clearly are, why all the worry about greenhouse-gas emissions and climate change? Here's why: "World energy use to rise by 56 percent, driven by growth in the developing world."
That headline to a U.S. Energy Information Administration press release sums up the challenge over the next 25 years pretty well. The renewables piece of pie is getting bigger, but the rest of the pie is growing too.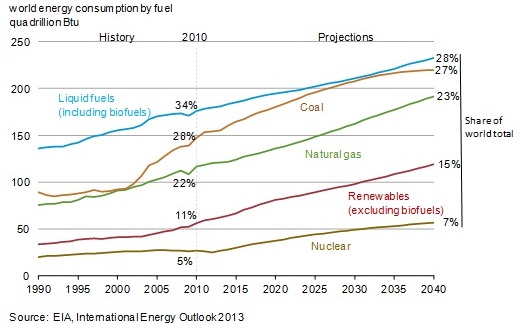 "Renewable energy and nuclear power are the world's fastest-growing energy sources, each increasing by 2.5 percent per year; however, fossil fuels continue to supply almost 80 percent of world energy use through 2040," the EIA said in a statement introducing its newly released International Energy Outlook 2013.
Developing countries who were mired deep in poverty during the 20th century while the U.S. and the West grew – gobbling and slurping up massive amounts of fossil fuels and belching GHGs in the process – are now having their turn.
"Rising prosperity in China and India is a major factor in the outlook for global energy demand. These two countries combined account for half the world's total increase in energy use through 2040," EIA Administrator Adam Sieminski said in a statement. "This will have a profound effect on the development of world energy markets."
The EIA report said that world energy consumption was likely to rise from 524 quadrillion British thermal units (Btu) in 2010 to 820 quadrillion Btu in 2040. Half of the total world increase in energy consumption is attributed to China and India, the EIA said.
While fossil fuels will continue to be the source of most energy, there will be some big shifts taking place. "The liquid fuels share of world marketed energy consumption falls from 34 percent in 2010 to 28 percent in 2040," the EIA said.
Coal is one reason why, at least for the next 15 years or so.
"Coal grows faster than liquid fuels consumption until after 2030, due to increases in China's consumption of coal and tepid growth in liquid fuels demand attributed to (1) slow growth in Organization for Economic Cooperation and Development (OECD) member countries, and (2) high sustained oil prices," the report said.
The other reason is natural gas, the fasted growing fossil fuel in this forecast. "Global natural gas consumption grows by 1.7 percent per year," the EIA said, as "increasing supplies of tight gas, shale gas, and coalbed methane support growth in projected worldwide gas use."