I know it's cliche to care about the environment and listen to National Public Radio (NPR), but I can't help it. As a kid, I used to love listening to All Things Considered on the way back from piano lessons. Now, we see how long we can maintain Weekend Edition and Car Talk before static cuts in on our way up to the ski slopes.
If, like me, you've got secret nerd-crushes on Ira Glass and Steve Inskeep, getting the chance to step inside the NPR headquarters in Washington, D.C. may seem like a fantasy, but it's not. Built in the shadow of the capital, the newly completed complex is open for free public tours each weekday, and there are lots of green features to be excited about.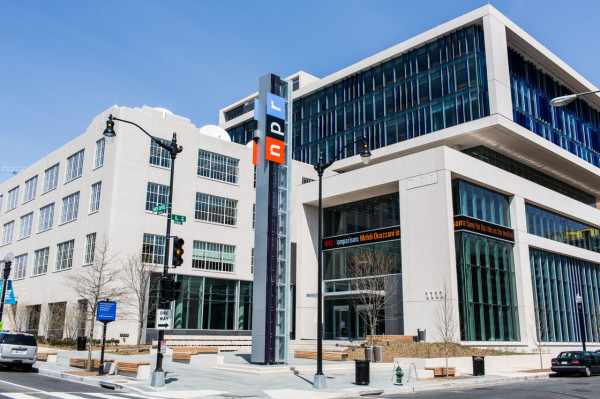 The 400,000 sq. foot campus, which has been open since April, may not be as headline-worthy as Facebook's hydro-powered data center or the Apple's UFO campus in California, but that doesn't mean it's not pretty high-tech in its own right. As the organization's world headquarters, NPR News, digital, NPR Music, technical, and administrative staff. It is also the center of a network of 17 domestic bureaus, 17 international bureaus, and a partner to Member Stations broadcasting NPR programs. According its own description, the NPR home base is "open, flexible, cost efficient, collaborative" and "designed to meet public radio's needs for generations to come."
The edifice, designed by DC-based firm Hickok Cole Architects, was intended to earn a LEED Gold certification from the U.S. Green Building Council. To that end, the building features a green roof (complete with urban bee hives), a highly efficient cooling system, and a system that captures street run-off within the tree-pits adjacent to North Capitol Street.
Outside you'll also fine a bike rack capable of holding 72 bikes, and a parking garage complete with plug-ins for electric vehicles. Not too shabby for a partially converted warehouse that use to be a phone-booth workshop.