For many, the term "mobile home" still brings up images of unkempt trailer parks and flimsy double-wides. That's because, facing limited budgets and time-constraints, many who purchase these homes opt to use them as is, instead of placing them on a firm foundation. Then there's the issue of quality: Roughly 2 million families still live in manufactured homes built prior to 1976, the  year when the federal government began regulating factory built homes for materials and efficiency.
Next Step is a non-profit dedicated to changing this perception. Started by a housing advocate that use to beg families not to choose manufactured homes, Next Step has now partnered with a leader in the industry to help more people become home owners while also increasing standards for efficiency.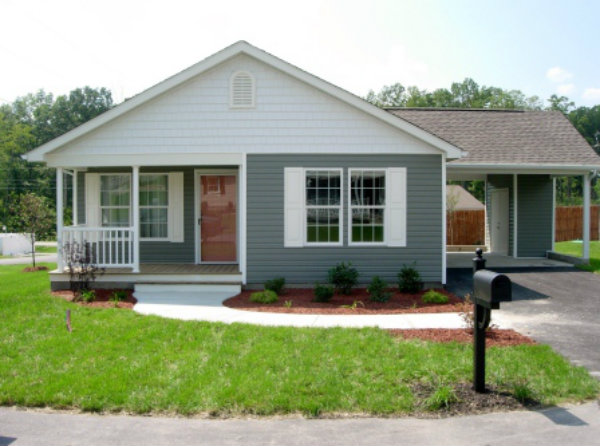 The program is the brainchild of Stacey Epperson, a longtime advocate of affordable housing. Epperson once fought to dissuade low-income families from buying factory-built homes because they were often financed with expensive subprime loans and she thought they weren't constructed as well as traditionally built homes.
"We'd try to persuade families to buy conventionally built homes, but then they'd see everything that manufactured homes had to offer and leave us behind," Epperson said in a press release. "Nine out of 10 families who came to us for help bought a manufactured home."
Then, rather than continue to fight against the obvious advantages of the pre-fab industry, Epperson decided to recruit them to her cause.
She decided to create a national network of nonprofit housing programs to achieve her vision, and partnered with Clayton Homes. "Clayton is the nation's biggest manufactured home builder, so they can buy high-quality materials in bulk and pass along the savings," Epperson said in the same release. "And because their homes are built in state-of-the-art facilities, they have far less construction waste and don't suffer weather delays like conventional builders. A Clayton home really provides outstanding value for these families.
Thanks to this partnership, Next Step is now able to offer modern, beautiful, Energy Star-certified homes at wholesale prices.  The program has already helped more than 100 families purchase manufactured homes that will save them nearly $4 million on their utility bills and $12.5 million in interest over the life of their 30-year loans, while reducing greenhouse gas emissions by more than 9,000 tons.