Green roofs are quickly becoming normalized to the green building industry. Especially popular in cities that suffer from intense urban heat island effects, these living roofs are now demonstrating their value in the academic world as well.
The University of Melbourne's Burnley Campus recently became home to a network of three green roofs, all carefully designed by HASSELL. Besides being beautiful and environmentally-beneficial, the roofs will serve as a laboratory for activities undertaken by the University's Green Infrastructure Research Group in relation to their green roof research and advocacy program.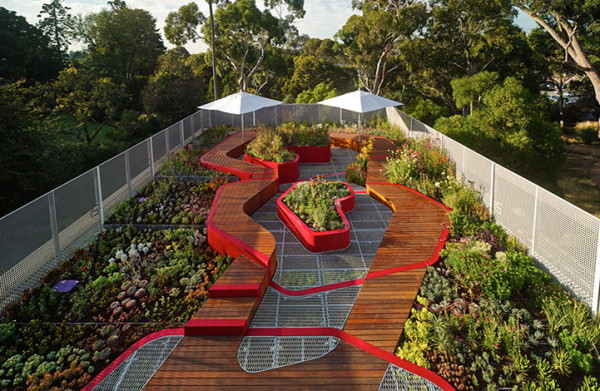 The Burnley Living Roof installation is the first of its kind in Australia–a world-class research and teaching facility designed to give students hands-on experience creating and testing different design techniques.
As mentioned, there are three distinct sections to the rooftop installation. The Research Roof consists of four trial research plots that operate as a testing facility for the urban horticulture team. Each is framed by raised walkways and individual drainage points enabling water quality research.
The Biodiversity Roof "is designed as a garden requiring minimal human intervention, with the aim to provide a protected space for experimentation with Australian native plants as urban habitat that encourages colonisation and supports biodiversity," explains a press release. The Demonstration Roof serves as an exhibition and interpretive space, designed for educational activities. It is divided into irrigated and non-irrigated territories, which act as diverse planting zones. "A circular walkway encounters each micro plant community and includes seating edges and a number of 'pockets' of intimate space for teaching."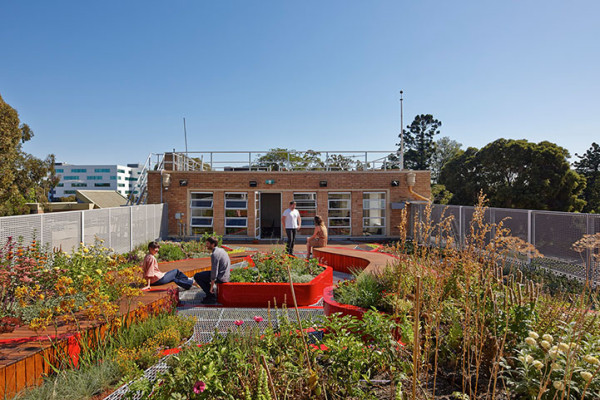 "Most research on green roofs was carried out in countries with cooler climates than Australia using different plants and without the issues of water availability," reports The Fifth Estate. Now that Melbourne has its very own rooftop research garden, the investigation can be customized to the unique flora and weather patterns of the continent.