Hyundai, fresh off a recent deployment of a small number of its ix35 Fuel Cell vehicles to the city of Copenhagen, Denmark to be used there in a municipal fleet, is ramping up distribution as it now turns to London. The historical capital of the United Kingdom, already an ambitious player in the green vehicle space, has as one of its initiatives the three year LHNE (London Hydrogen Network Expansion) project. The South Korean automaker is one of those taking part in this fuel cell station network build out.
Plans call for Hyundai to offer up five ix35 vehicles to the LHNE endeavor. They will be "leased to key public and private fleet users in the capital" and are among the first of 1,000 such fuel cell vehicles the company has committed to producing between now and 2015. Most of them are already allocated for Europe, where
the European Commission has established a number of schemes, such as the Fuel Cells and Hydrogen Joint Undertaking (FCH JU), to promote the use of hydrogen as an energy carrier with zero carbon content.
Hyundai has the distinction of its ix35 being the first production fuel cell car in the world. It offers a zero emissions driving experience, a range of up to 369 miles, a 100 MPH maximum top speed and 0-62 MPH acceleration in 12.5 seconds. Its role in the LHNE project consists of being put into daily business use to see how it performs in more real world driving experiences on busy streets.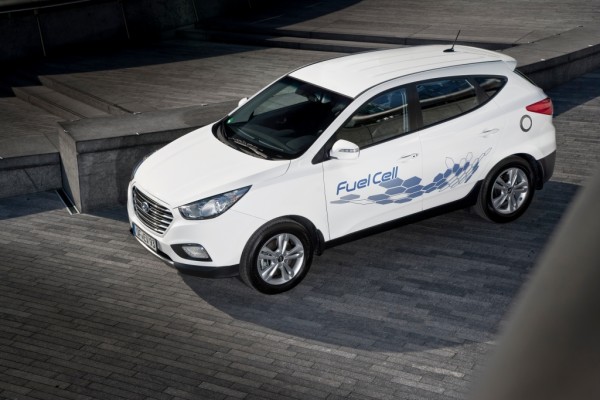 As for what LHNE specifically is, the goal of this government-backed initiative that's co-funded by the Technology Strategy Board is to create the UK's first hydrogen powered transport system across London and the South East. It will eventually offer up a series of publicly accessible,  fast-fill 700 bar renewable hydrogen fueling stations.
The United Kingdom, like Hyundai, is becoming something of a leader in the hydrogen fuel cell space, seeing its first refueling station open in 2011. London hosts, besides the LHNE, a number of fuel cell buses as well as hydrogen powered black cabs.
"These are early days," said Kit Malthouse, London Deputy Mayor for Business and Enterprise and Chairman of the London Hydrogen Partnership, in a statement, "but I am tremendously excited by the prospects of London's hydrogen future. Hyundai is providing invaluable insights and bringing global experience to the Mayor's innovative low carbon, low emission transport activities."