Greentech Automotive (GTA) is one of those electric car companies which may, or may not be, on the bubble, depending upon your perspective. They certainly seem to speak a good game, announcing yesterday that construction of a new "Mississippi production facility is entering Phase 2, the main building phase." At the same time though, questions have been raised on whether or not they could be the next Coda Automotive.
First, the announcement. Greentech, known for its MyCar neighborhood electric vehicle and planned five passenger EV sedan in partnership with Chinese automaker JAC, said that it so far has invested more than $6.6 million in its new plant to complete Phase 1 of the build out. This first step included a variety of on-site engineering and testing processes that "were conducted in accordance with federal, state and local codes" and helped to address "some unique geotechnical challenges due to the weak underlying soils in the Mississippi Delta."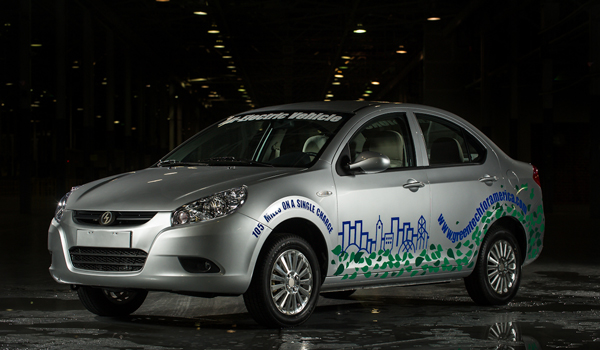 Phase 2, meanwhile, will include
the construction of GTA's manufacturing facility, offices and meeting space in Tunica, Mississippi. Construction is expected to continue through December 2013. Vehicle production is expected to begin at the new facility by April 2014. GTA currently operates a pilot manufacturing facility in Horn Lake, Mississippi, where it builds MyCar, a two-seat Neighborhood Electric Vehicle (NEV), and GTA's new five-seat, All-Electric Sedan. Both vehicles produce zero emissions, provide a range of more than 100 miles per charge and can be recharged via a common 110V wall outlet, a 220V wall outlet or a fast-charging system.
Once completed, said Charles Wang, chairman and CEO of GTA, the new facility is expected to have a a production capacity of 30,000 vehicles per year. The big question here though  – is there that much of a market for the vehicles it offers? Odds are stacked against it, especially given the high profile flame out of Coda Automotive, a once well regarded electric vehicle start up out of California which tried making a go of it with a re-engineered Chinese sedan. The end result? Recent bankruptcy.
GTA, as others have observed in green automotive media, looks as if it could be too good to be true. The market for neighborhood electric vehicles is really, really small, the company lacks any form of brand recognition and, oh yeah, Coda already tried this.
What are your thoughts on this? Is GTA pie in the sky, or does it actually have a shot at mirroring a shadow of the success the likes of Tesla Motors has seen? Leave us your comments below.