The iconic Land Rover brand has teased for years on what it might do some day in the green car space. Its latest peak behind the curtain came from the Geneva Auto Show earlier this year, where it showed off the Defender Electric, an EV version of its Defender SUV. The vehicle, said to be strictly for research purposes, is now in the field being tested at the Eden Project near St Austell in Cornwall, United Kingdom.
The Eden Project is a fitting place to be testing the Land Rover Defender Electric, as it is a major environmental center focused on housing thousands of plant species under a series of artificial domes which simulate natural conditions from around the world. It is considered a major tourist attraction in the region, and the electric SUV is being used to transport visitors around the site by towing a 12 ton road train that carries up to 60 passengers up a 6 percent incline.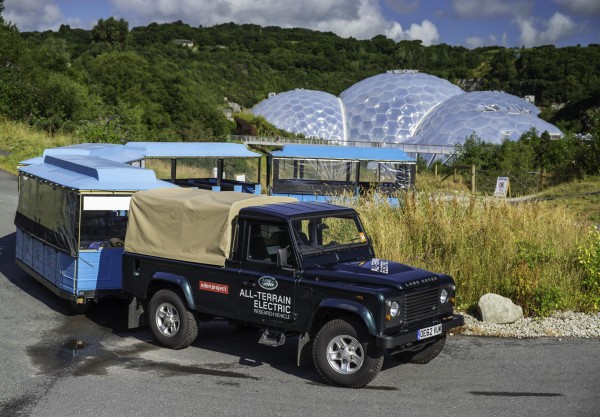 The Defender 110 Pick Up badged 'All terrain Electric Research Vehicle,' according to Land Rover, has full all-terrain capability, permanent 4WD and a top speed of 70 mph. Its
Hill Descent Control is linked to a regenerative braking function, and overall up to 80 per cent of the car's kinetic energy can be recovered. During each downhill trip at the Eden Project up to 30kW will be fed back into the batteries. Land Rover's acclaimed Terrain Response system has been adapted for electric drive, offering a 50-mile range with a reserve of a further 12.5 miles.
The electric vehicle, which can operate for what's said to be up to  eight hours of low-speed off-road use, takes 10 hours for its advanced lithium-ion batteries to be fully charged. This time drops down to four hours with quick charge technology, and overnight costs to recharge the batteries are said to be approximately £2.00.
"The car has been modified so it now includes a second battery," said Jeremy Greenwood, Principal Engineer on the Electric Defender project, in a statement. "That will allow it to work a full day at the Eden Project, but also improves weight distribution and stability. In addition, we've linked the land-train's air brakes to the foot pedal of the Land Rover, enhancing safety."
Land Rover is currently reviewing a number of sustainability initiatives, which have included the move to aluminum platforms in the latest all-new Range Rover and Range Rover Sport as well as the forthcoming Range Rover hybrid products. Besides the Eden Project, it also has plans for up to six electric vehicles to "be placed with organizations where their performance can be assessed."