Getting around in urban environments can be difficult, especially if you're trying to live a low-impact life. Cars clog the arteries of every major city, costing a fortune in gas and taking an unimaginable toll on the environment. Bikes are better, but commuting can be intimidating for those not used to sharing the road with trucks and taxis. Public transportation is efficient, but requires working on someone else's schedule.
For those who want to go faster than a walk, but are scared to pedal, we give you, the Scrooser. With a weird name and even-funkier design, this hybrid scooter has captured the hearts of the crowdfunding community. After blasting through its $120,000 Kickstarter goal, the first Scroosers should be appearing on a sidewalk near you this fall.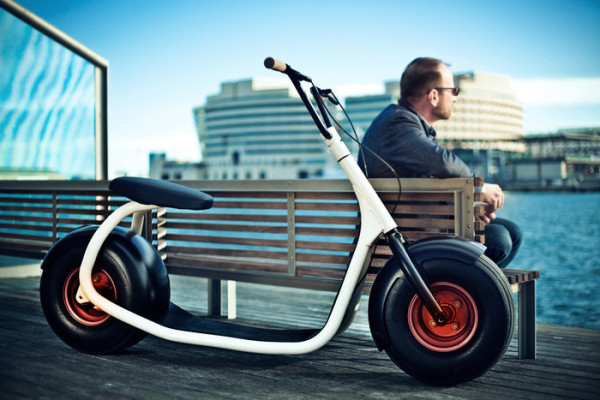 The brain-child of Jens Thieme and a team of German designers, the Scooser features awesome fat tires and a surprisingly simple design. Consisting of two main parts, each half of the frame is formed from a single piece through a process known as "free-form 3D bending." The high-strength aluminum alloy from which it's formed and the short radii deliver remarkable stability, according to the designers. Although difficult and expensive, this process and materials result in a frame that weighs only 6 lbs total.
But the really cool part of the Scooser isn't apparent at first glance. Hidden inside the rear wheel is an impulse drive electric motor and lithium ion battery. The motor augments the energy generated when the rider pushes the scooter along with their legs (like a traditional Razor scooter or skateboard).
And don't worry, if you get going a little too fast, the front hydraulic disc brakes and rear internal motor brake will bring you back down to cruising speed.