Formula Student, held yearly in the United Kingdom, is a place where student engineers come together to design, build and race a single seat racing car over the course of a year. Put on by the Institution of Mechanical Engineers, these entries are judged on their speed, acceleration, handling and endurance in a series of time-trial races, while the teams are tested on their design, costing and business presentation skills. Usually a gas engine vehicle takes home the top prize, but this year ETH Zurich from Switzerland came in first behind the wheel of their electric car.
The organizers of Formula Student said this was the first time an electric vehicle had been declared the overall winner of the student motorsport event. They also believe it may be the first time "an electric vehicle has beaten cars powered by combustion engines in any accredited motorsport competition." This may well be true, though Lightning Motorcycles did recently beat all similar gas-powered competitors over a 12.42-mile, fully-paved course that included 156 turns ending at the 14,110-foot summit of Pikes Peak in Colorado.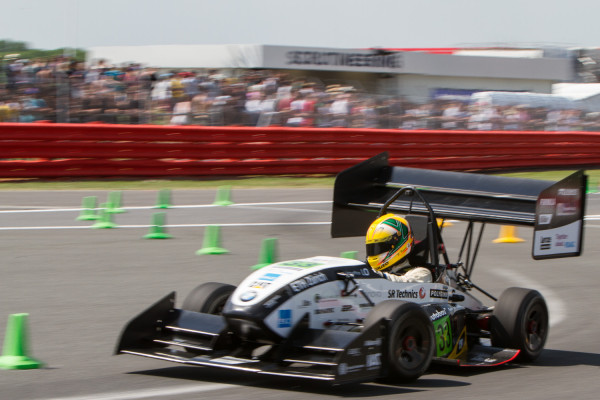 ETH Zurich scored a total of 921.3 points at Silverstone as 2,000 students from around the world competed in the competition while temperatures neared 90 degrees. The reason to note the hotter conditions is that "a number of well-fancied teams" failed to complete the endurance portion of the event, which may well have helped the electric car in the long run in winning the competition.
Not to be outdone, the German team UAS Zwickau claimed second place with 851.5 points in their own electric car. The 28 folks from Zurich still stole the show, though they had some electrical problems during the "dynamic events" portion of Formula Student. The team resolved their issues apparently well enough, however.
"The electrically powered cars have made huge progress going from being unable to complete the 22 Km endurance event to winning overall in just five years," said Jon Hilton, Chairman of Formula Student, in a statement. "We are delighted by this progress but we will have to see what needs to be done in the future to ensure petrol cars remain competitive."