I live on a bluff just outside the official city limit of Denver, Colorado. I love getting to the top of the rise and seeing the cluster of skyscrapers sprouting out from the belly of the valley every time I go downtown. While the experience lets you know you've arrived in a big city, the reality of these tall towers is far less exhilarating.
According to the EPA buildings account for 65 percent of our electricity consumption and 30 percent of our greenhouse gas emissions here in the US. It might surprise you to learn that a lot of this can be explained by the materials used to construct big buildings: steel and concrete. A new report by the design firm Skidmore, Owings and Merril (SOM) found that by replacing this steel with timber, it could be possible to slash a skyscraper's carbon footprint by up to 75 percent.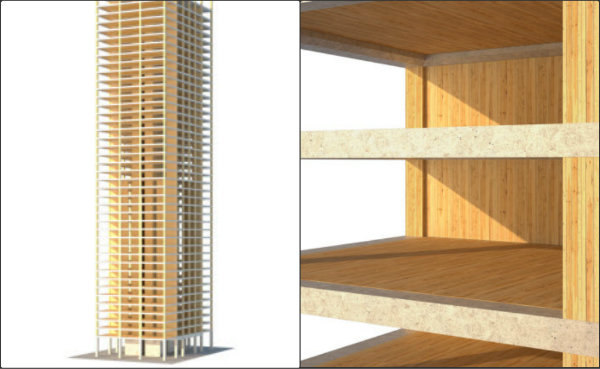 The stated goal of SOM's 'Timber Tower Research Project' was to find a way to build structurally-sound, tall buildings using timber instead of steel. The solution revealed by the research is the 'Concrete Jointed Timber Frame', a system that "relies primarily on mass timber for the main structural elements, with supplementary reinforced concrete at the highly stressed locations of the structure: the connecting joints."
According to the research team, the timber-based system is technically feasible from the standpoint of structural engineering, architecture, interior layouts, and building services. It would require zero steel and far less concrete than a normal skyscraper, thus drastically reducing its carbon footprint.
But we all that ideas that look good on paper aren't always easy to implement in real life. And then there's the question of whether or not it's a good idea to harvest carbon-absorbing trees for the purpose of building apartments. For now, SOM admits that more research is necessary, and urges the design community to continue to work creatively with forward-thinking municipalities and code officials to make timber towers a reality.