With the help of former President Bill Clinton, six South Dakota Sioux tribes on Friday announced a plan to form a multi-tribal power authority, sell bonds and build a wind power plant that would be among the largest in the world at between 1 and 2 gigawatts of generating capacity.
The plan was unveiled at the Clinton Global Initiative's CGI America meeting in Chicago, and described in a piece by former U.S. Senator Byron Dorgan (D-N.D.) and leaders from the six tribes – the Oglala Sioux Tribe; Yankton Sioux Tribe; Cheyenne River Sioux Tribe; Crow Creek Sioux Tribe; Rosebud Sioux Tribe; and Sisseton Wahpeton Oyate.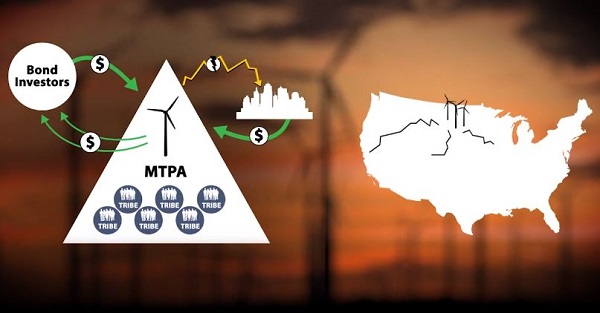 Precise details on the location and size of the project weren't immediately evident, but the piece by Dorgan et al. noted that the tribes cover one-sixth of the land area of South Dakota. There's no doubt that South Dakota is a prime wind resource (see graphic below).
In a video promoting the plan, the Sioux said the wind farm would be "the largest utility-grade wind installation in the U.S." That title now goes to either the 845-megawatt Shepherds Flat project in Oregon, or the Alta Wind Energy Center in California, which checks in at 1,020 MW (and growing) but is made up of several sometimes distinct units. Meanwhile, the Obama administration has given preliminary approval for private developers to pursue a 2-3 GW project in Wyoming.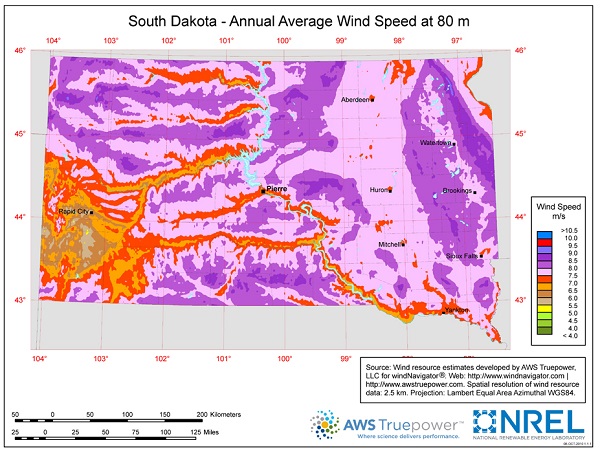 The Sioux announcement emphasized the unique financing model the tribes aim to use – the first new joint municipal power authority formed in the U.S. in decades, they said. It's a model that could provide less-costly funding than typical methods, and the tribes hope it will give them a new level of "self-determination, self-development and self-reliance."
"It will be a market driven initiative – start-up costs will be funded by private grants and investments, and the Project development costs will be fully funded by Power Authority bonds," the announcement said. "The Project will not rely on federal tax credits. It is our hope that this Project may become a model for the development of wind power and other forms of renewable energy across the U.S., both on and off Native Lands."
The announcement said the project "will be one of the most significant economic development initiatives in the history of South Dakota, and will result in spin-off development in road building, trucking, hotels and restaurants, telecommunications and other industries, benefiting both the Tribes and neighboring communities."
While the plan is for the project to largely funded by the sale of the bonds – expected to be made available to investors in about two years – the tribes have turned to the crowdfunding platform Rally.org "to raise the funds necessary to complete the planning process and technical feasibility studies."