While it's easy to write a plan for corporate social responsibility, putting it into action can be quite difficult. Conserving energy or limiting carbon emissions depends on total buy-in from employees, but workers are hardly motivated by a company's need to save money or green up their image.
Practically Green, an online company that's had great success in motivating sustainable behavior changes on the personal level, hopes to help companies overcome this motivational barrier. The company recently launched a new enterprise-level platform designed to encourage global businesses and their employees to adopt healthy, sustainable choices within their organization using the principles of social networking and game mechanics.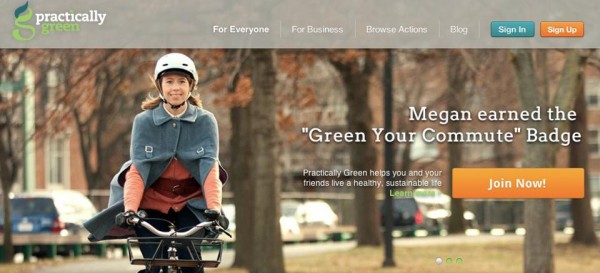 Even on a personal level, remembering all the little things that reduce our carbon footprint can be a chore. Like other behavior-changing apps and sites we've featured in the past, Practically Green aims to harness the energy that keeps us on Facebook and Twitter all day to turn our lifestyle a deeper shade of green. With the newest features, the online community will now aim to make that easy for coworkers and corporations as well.
Additional features of the platform include:
Themed Projects: Create themed project with your coworkers so that everyone can work together to reach a collective sustainability goal. Projects can be created or customized for specific geographies and job functions.
Repeatable and One-Time Actions: Bad habits are hard to break and good ones are hard to start. This feature makes it easy to measure progress for specific repeatable actions (take public transportation, powering down their computer) or complete one-time actions, many with ongoing benefits (install solar, switch to an LED desk lamp).
Enhanced Social Features: Just like Facebook, Practically Green users can like, comment, post photos after completing an action, and tag friends and coworkers to share tips and expertise.
Analytics Suite: Corporate social responsibility is all about results. Using this feature, organizations can monitor and measure participation and engagement rates as well as environmental impact and financial savings.
Practically Green's clients include global sustainability leaders Unilever, CA Technologies, Sony Electronics, NBCUniversal, Sony Pictures a Greener World, and Caesars Entertainment. The company's platform integrates with intranets, email systems and enterprise directory systems and is available on mobile devices.