If you've ever wanted to shout, "Dammit Jim, I'm a doctor not a rocket scientist!" now's your chance. An Indiegogo crowdfunding campaign has gathered nearly $1 million in hopes of putting the Scanadu Scout, a real life working medical tricorder, into production.
Yes, just like the gizmos imagined in Star Trek, the Scanadu would enable you to assess your vital signs or those of a friend simply by passing the sensor over your forehead. The device then records the results and sends them wirelessly to your smartphone in a few seconds, any time, anywhere.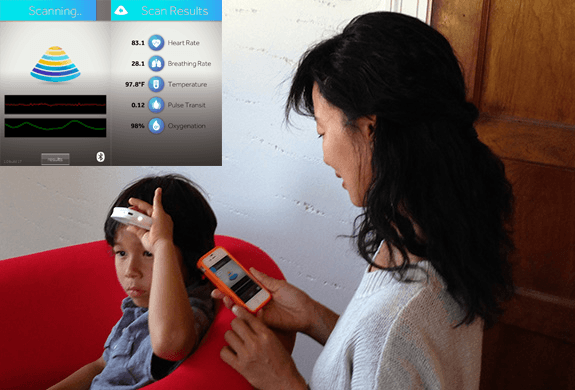 While it may not be able to completely 'replace the emergency room' the Scanadu can certainly tell you a lot of things about your current state of health that would otherwise require a wait at the doctor's office and a lot of cash.
Heart rate, temperature, Sp02 (oxymetry), repiratory rate, blood pressure, ECG, and emotional stress can all be detected by the Scanadu Scout's internal sensors. This information is then transmitted to your smart phone via Bluetooth LE.
How is this possible? Well it's no surprise that this futuristic device utilizes technology actually used in space exploration today. The Scanadu Scout is built on the 32-bit RTOS Micrium platform, NASA's choice for SAM (Sample Analysis at Mars) on the Rover Curiosity (uC/OS-II Kernel Drives Extraterrestrial Scientific Investigations), according to its creators.
It uses a micro-USB adapter for charging, and claims to be fully charged and ready for use with just an hour of juice-up time. Combine this with a solar charger like the Waka Waka Power or Voltaic Solar Charging Kits and your emergency preparedness kit just got a serious high tech boost.
Currently, the company has create a working prototype. The Indiegogo campaign, which had an original goal of $100,000 was meant to facilitate application to the FDA for market approval as an over-the-counter consumer-grade diagnostic tool. Well, the campaign has now raised over $860,000 and there are still nine days to go.
A donation of $199 ensures that you'll be one of the first to play Doctor McCoy in your neighborhood.