Airports are known for their crappy food. Once you're over the threshold, everything goes up $5 in price, and takes a nosedive in quality and taste. Many people resign themselves to fast food: at least you're prepared for what you get. But a new project at Chicago's O'Hare International Airport aims to turn airport dining into a fresh, hyper-local affair.
Airport officials recently announced the official opening of the O'Hare Urban Garden, the first-ever vertical aeroponic garden inside an airport terminal. The 928-square-foot, soil-less venture will help supply fresh produce and herbs to the airports restaurants, which will participate in a unique type of indoor CSA.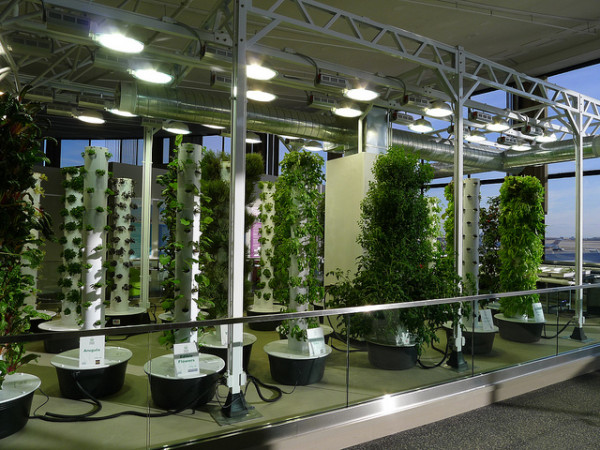 The aeroponic system built inside the airport is similar to, but slightly different than hydroponic systems we've seen in the past. In an aeroponic system, plant roots are misted with a nutrient solution during a regular watering cycle.
In the O'Hare aeroponic garden, "plant's roots are suspended in 26 towers that house over 1,100 planting spots. A nutrient solution is regularly cycled through the towers using pumps so that no water evaporates or is wasted, making the process self-sustaining. No fertilizers or chemicals are used in the garden," explains the Chicago Department of Aviation (which oversees operations at O'Hare).
"It uses and recycles water. The water has nutrients in it that feeds the vegetables, so it's using less land growing vertically instead of horizontally," aviation commissioner Rosemarie Andolino told ABC Chicago. Special lamps mimic sunlight so that the plants can grow to maturity.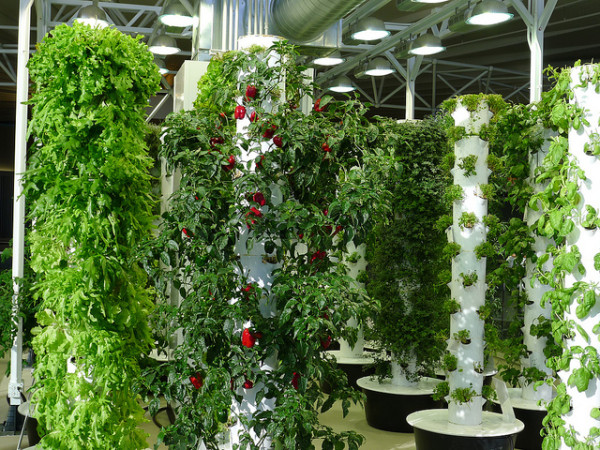 According to ABC, Stanley's Blackhawks Lounge and the Wicker Seafood and Sushi Restaurant are among several O'Hare eateries that are already serving the produce to their customers.
If you're traveling through Chicago soon, be sure to look for the garden, which is located between Terminal 2 and 3 in the mezzanine level of the ORD Rotunda Building.