In his State of the City address in February, Mr. Bloomberg called food waste "New York City's final recycling frontier." The headline-loving Mayor, whose previous attempts to clean up the Big Apple include a proposed tax on soft drinks, bans on smoking in parks, and one of the country's largest bike sharing programs, will now adding composting to the list.
Previously, New York Officials assumed that because its boroughs were so densely populated, a municipal composting program just wouldn't work. But New Yorkers proved them wrong. Pilot programs showed a surprisingly-high level of voluntary participation, and so, the City recently announced that by 2016, participation will be required.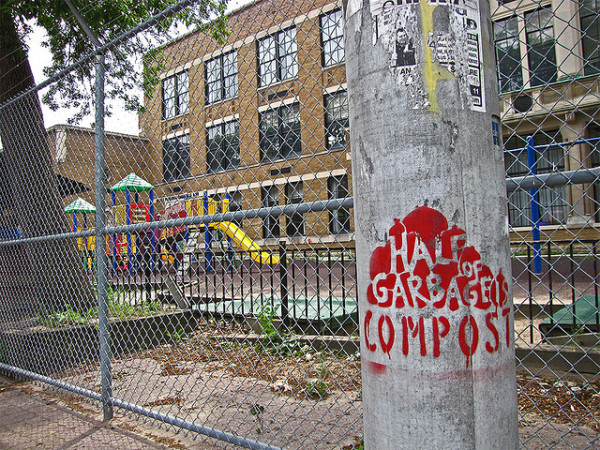 According to Rob Gonen, NYC's newly appointed deputy sanitation commissioner for recycling and sustainability, "[f]ood waste and other organic materials account for almost a third of all residential trash, and the city could save about $100 million a year by diverting it from landfills."
"Under the program, New Yorkers will collect food scraps in containers, to be deposited in brown receptacles on the curb for pickup by garbage trucks," explains Bloomberg.com. "Apartment dwellers will empty their pails of uneaten waste at collection points, as they do now with recycled glass and paper, officials said."
Assuming that the logistics of transporting around a million tons of food scraps to an appropriate facility doesn't prove to be too much of a problem (and assuming they can get said facility built in fairly short order) the program could represent massive savings for taxpayers and much-needed green energy for the city.
The administration said it plans to begin a search for a company to build a plant in the New York region to process residents' food waste into biogas, which would be used to generate electricity. "New Yorkers who do not separate their food scraps could be subject to fines, just as they are currently if they do not recycle plastic, paper or metal," reports the New York Times.