The two-fold mission of most urban pavilions is both to protect and focus the attention on whatever happens to be under it. Sometimes, however, the pavilion itself, can become a city landmark – a recognizable meeting place that all citizens can instantly recognize.
Such is the case with the Lanternen, a mostly wood and glass pavilion created in 2008 as a protective shelter over a public pedestrian square in the coastal town on Sandnes, Norway. Illuminated from within by energy-efficient bulbs, the structure lives up to its name, lighting up the night sky and acting like a citywide beacon during the long, dark winters.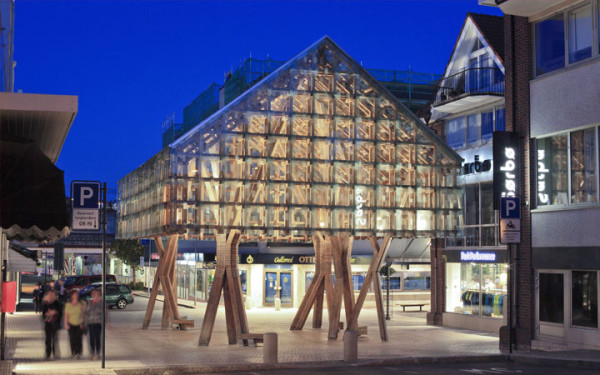 Designed by the studio AtelierOslo, Lanternen is made chiefly of oak that has been sustainably harvested from the local Southern Norwegian area. The identically sized glass panels connected to the wooden latticework are overlapped, resembling transparent roofing shingles that protect from the elements while still allowing daylight to penetrate to the space below.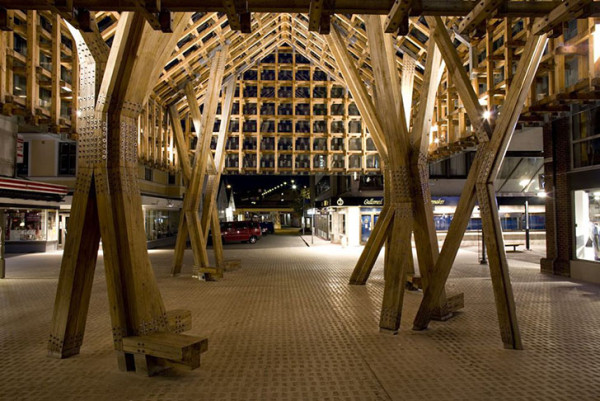 Some of the most prominent features are the four central support timbers that are drawn into the interior. The steel-reinforced timbers branch out at irregular and asymmetric angles as a modernist echo of a live tree branching. The rest of the 1,500-square-foot structure is shaped like the rectangular boxes with sloping roofs that are found along Long Street in Sandnes.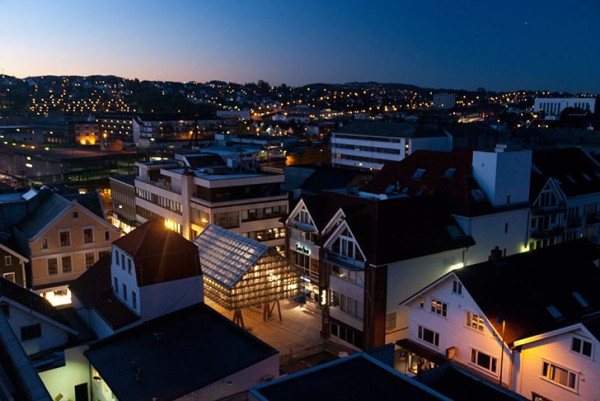 "We did not want the roof structure to define the space," the Atelier Oslo designers explained on their website. "The [columns] are positioned so that a casual space is created, facilitating informal ways to experience the project."
Today, the space is used as a gathering spot as well as a public space for musical concerts and other performances. The design from Atelier Oslo was the winner of a 2006 competition for sustainable timber projects, called named Norwegian Wood.