A wind turbine placed at sea sent power to the grid for the first time in U.S. history on Thursday – and it came from a floating turbine, no less.
The historic event happened in Maine's Castine Harbor in 80-foot-deep waters, as Habib Dagher, director of the Advanced Structures and Composites Center at the University of Maine, led a small group on a nearby boat in a call to "Energize VolturnUS!"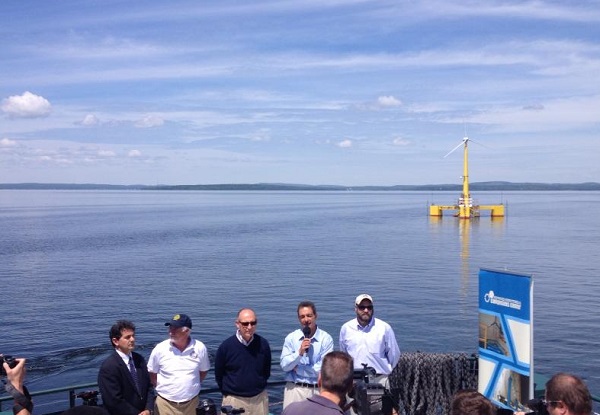 "So at 12:40 p.m., on June 13, 2013, the first offshore wind electrons are flowing to the U.S. grid," Dagher said.
The 65-foot-tall VolturnUS 1:8 prototype is a scale model of the giant 6-megawatt turbines the university and its partners in the DeepCWind Consortium hope to have operating beginning as soon as 2016. Deep-water wind supporters in Maine believe that by 2030 they can grab 5 gigawatts of power with arrays of large turbines up to 50 miles off the coast.
The turbine turned on this week is generating just a modest amount of power, 20-kilowatts according to a Bangor Daily News story, enough to power a handful of homes. The point right now, however, isn't to give the grid a substantial boost. Instead, researchers hope to test what is believed to be the future of offshore wind power, turbines that can go in deep water farther out at sea, away from conflicts and where the winds blow strong and consistent. Although an expensive undertaking today, the consortium believes that in the long run floating turbines will be able to deliver energy at lower cost than current offshore wind technology, which is about three times as expensive as land-based wind.
Land-based wind power has flourished in the U.S., with 60 gigawatts of capacity online by the end of 2012, second only to China, but until VolturnUS came along, the country had yet to get a turbine installed at sea. The United Kingdom has been leading the charge offshore; it brought 854 MW of offshore wind capacity online in 2012, driving its total to 2,093 MW. No other country has yet to reach 1,000 MW. The turbines being installed in Europe these days are on platforms, nearly always in waters less than 30 meters deep.