Following the devastation of World War II, much of Germany used whatever methods were available to dig itself out of the rubble. One of these methods was "rammed earth," an ancient technique that used a compressed mixture of soil, chalk, lime and gravel, plus a little water, to form sturdy, thermally efficient walls at low cost. By the 1950s, when the post-war emergency protocols ended, the technology was all but forgotten.
Today, in our more eco-friendly world, the used of rammed-earth building materials has undergone a revival as a low-cost way for buildings to retain heat in passive solar houses. In the rural town of Ihlow, Germany, near the Dutch border, a privately-owned stone farmhouse that used to be a barn became the first known German structure since the post-war reconstruction period to use rammed-earth materials.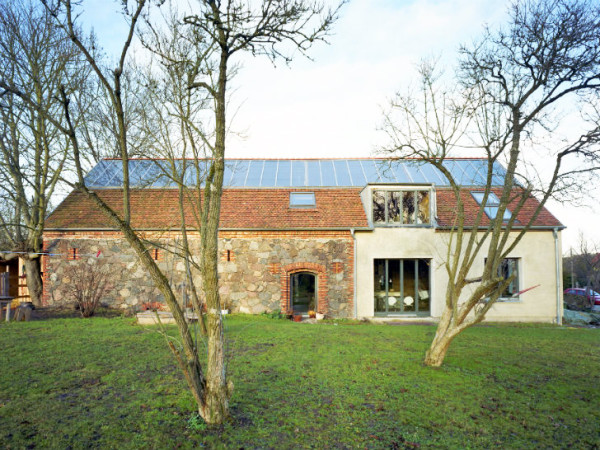 The method was used to add reinforcing of the "rubble stone" barn and increase the size of the building to accommodate a family year-round. The extension of the Ilhow House was designed by the firm Roswag Architekten, which used a combination of rammed-earth and hemp fiber as insulation in both the exterior and interior walls.
The overall, 1,900-square-foot structure was retrofitted in 2006 to use passive methods to conserve energy and resources, including solar hot water heaters and a rainwater harvesting operation to store non-potable water for garden irrigation, a washing machine and toilet flushing. Waste water is also treated on site.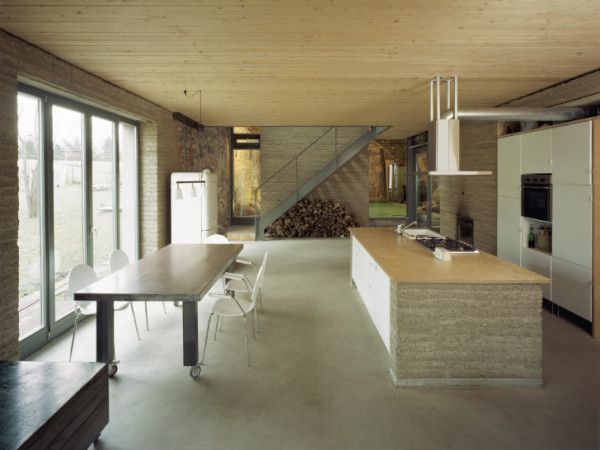 Roswag removed old timbers on the first floor with load-bearing rammed-earth walls, allowing for an open kitchen space. The second story, using a timber frame, contains the bedroom areas. The original, unheated stone barn area was left mostly untouched and is separated from the rest of the residence by a glass wall with an insulated core.
Both halves of the home are covered under the same roof, which is equipped with solar collectors that convey radiant heat to the new floors and walls. The rammed earth helps convey the heat evenly throughout the living spaces in the house. A wood pellet-fueled stove also adds heat to the home, which consumes an average of 24 KWh per square meter.