Not that this is a big surprise for those who already own hybrids, but a new study out of Carnegie Mellon University (CMU) suggests that how and where you drive this type of car determines whether or not it will pay for itself and help the environment as well. The research was funded by the National Science Foundation, as well as major hybrid automakers Ford and Toyota, and appears just as the EPA is rolling out new fuel economy labels starting with 2013 vehicles that are created based upon standard laboratory tests to measure vehicle fuel efficiency.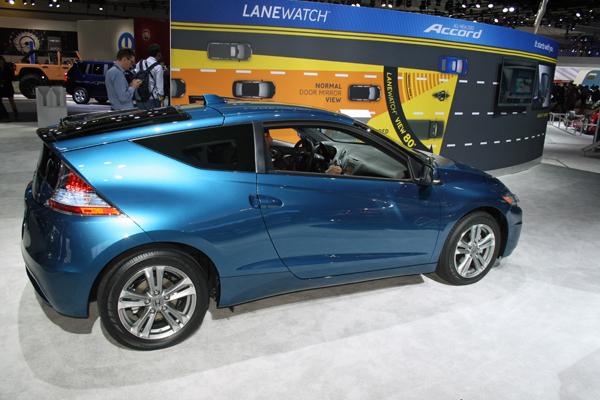 Researchers found, according to Jeremy Michalek, a professor of mechanical engineering andengineering and public policy at CMU, that
for highway drivers, hybrid and plug-in vehicles cost more without much benefit to the environment. But for drivers who experience a lot of idling and stop-and-go traffic, a hybrid could lower lifetime costs by 20 percent and cut greenhouse gas emissions in half.
Michalek, along with Orkun Karabasoglu, a mechanical engineering research assistant, analyzed the potential cost and greenhouse gas savings of hybrid and electric vehicles under different driving conditions before coming to their conclusions. How this data impacts the new fuel labels coming out is to suggest that no single test can capture all kinds of driving, but that for drivers who spend a lot of time in traffic, the benefits may be much more than the labels suggest.
The authors behind this study argue that "the fuel economy standards are still based on old lab tests that make vehicles appear to be more efficient than they really are" and that "this has always been an issue, but it is amplified with today's vehicle technologies. These tests may be underestimating the relative real-world benefits of hybrid and plug-in vehicles."
"Aggressive driving can cut vehicle range by 40 percent or more, said Michalek in a statement. "That's a notable risk for pure electric vehicles, which already have limited range and take a long time to recharge. But with hybrid electric vehicles, which run on gasoline, and plug-in hybrid electric vehicles that use electricity for short trips and switch to gasoline for longer trips, there's no added risk of being stranded."