EADS is no slouch when it comes to the aerospace sector, employing over 140,000 people worldwide. It is therefore encouraging to see the parent company of Airbus tinkering in sustainable aircraft development, no matter the scale of the projects. It recently showcased three of its innovations in the field of electric and hybrid propulsion at the Paris Air Show 2013 under the moniker of E-aircraft' projects.
Taking center stage, and developed in cooperation with Aero Composites Saintonge, is the E-Fan, an electric general aviation training aircraft that is a look into the future for an electric trainer plane. The two seater was said to undergo a very intensive development phase of only eight months, and features two electrical engines driving shrouded propellers that offer total static engine thrust of about 1,5 kN. Energy for the engines is provided by two battery packs located in the wings. EADS noted that the main landing gear is of interest, as it allows electrical taxiing on the ground without the main engines and in addition provides acceleration during take-off up to a speed of 60 km/h.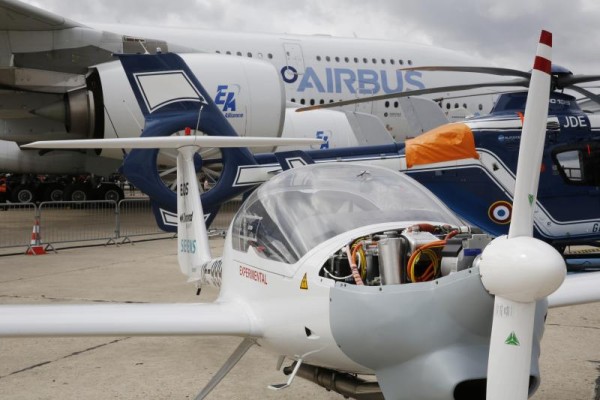 Also under development, and engineered together with Diamond Aircraft and Siemens, is an updated hybrid electric motor glider, the Diamond Aircraft DA36 E-Star 2. Said to be the world's first serial hybrid electric aircraft, it was first introduced at the Paris Air Show 2011. It is a two-seater as well and now features a lighter and more compact electric motor from Siemens, battery packs under the wings and electricity supplied by a small Wankel engine from Austro Engine with a generator that functions solely as a power source.
Finally, working with Rolls-Royce, EADS is developing what it calls "a smarter future distributed propulsion system concept." Funded by the UK's Technology Strategy Board, this project
researches key innovative technologies that will improve fuel economy and reduce exhaust gas and noise emissions by having a distributed propulsion system architecture. In this architecture, six electrically powered fans are distributed in clusters of three along the wing span and housed with a common intake duct. An advanced gas power unit provides the electrical power for the fans and for the re-charging of the energy storage.
All of the hybrid and electric aircraft work going on at EADS and its partners is motivated by "the aviation industry's environmental protection goals as spelled out in the 'Flightpath 2050' report by the European Commission. This roadmap sets the target of reducing aircraft CO2 emissions by 75%, along with reductions of Nitrogen Oxides (NOx) by 90% and noise levels by 65%, compared to standards in the year 2000."