Distributed wind energy projects don't always work out as planned (we present the 3-percent-capacity-factor Lordstown, Ohio, turbines). But well-planned projects can come through as advertised – even when Mother Nature throws a curve ball at 'em – and fulfill a valuable niche function.
Case in point: The Hempstead, N.Y., wind turbine. We reported on its installation back in January 2012, and now a report from the U.S. Department of Energy's Wind Powering America initiative shows the 100-kilowatt turbine produced at the high end of its expected range in its first year of operation. It did so despite losing a month of operation due to Hurricane Sandy and other grid-related issues.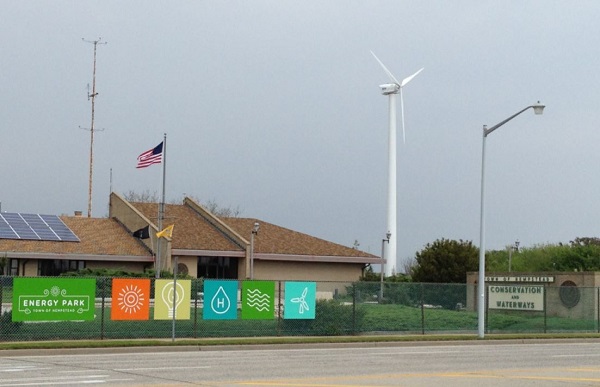 The Hempstead installation is more interesting than your typical distributed wind project because it was undertaken specifically to provide clean power to an electrolyzer that produces hydrogen for a vehicle fueling station in the Long Island city.
Hempstead had been buying about 200,000 kilowatt-hours of electricity per year off the grid to create clean-burning hydrogen – grid power that came mostly from fossil fuels, kind of defeating the purpose of the hydrogen vehicle program. And the power was expensive: At 20.2 cents per kWh, electricity in the New York City-Northern New Jersey-Long Island region is 56.6 percent more expensive than the national average of 12.9 cents/kWh [PDF].
When the $615,000 turbine went in, the forecast was that it would produce between 180,000 and 240,00 kWh per year; it ended up producing 225,000 kWh in Year 1. That's a 25.7 percent capacity factor by our calculation, quite respectable for a project of this scale, especially given the unavoidable disruptions.
The fuel station itself in Hempstead has several elements, providing pure hydrogen, compressed natural gas (CNG) or a blend of hydrogen and compressed natural gas (HCNG). Toyota has provided two fuel cell hybrid vehicles valued at around $100,000 for use by the town. The blended hydrogen/compressed natural gas fuels a shuttle bus that's used for a senior program, and a Ford E450 shuttle bus, supplied by CNG company Clean Vehicle Solutions, was "upfitted" to run on natural gas and calibrated to run on the HCNG fuel.
Tara Schneider Moran, a conservation biologist for the Department of Conservation & Waterways in Hempstead, New York, told Wind Powering America that town officials – happy about the $40,000 a year in energy production the turbine has brought – are now looking into building a microgrid to make use of the turbine's energy production capabilities during grid power interruptions.
More information about the Hempstead wind turbine is available in a paper [PDF] by Aegis Wind, a partner in the project.