People often have this idea that recycled materials are weaker or less durable than their new counterparts. Neither are words you want associated with a vehicle bridge. A newly installed structure in Logan County, Ohio, proves that 100 percent recycled can also mean 100 percent strong and reliable.
In 2012, Axion, a company that specializes in green infrastructure, was commissioned to build the bridge using its 100 percent recycled plastic building material called STRUXURE. Made from 80 percent post consumer plastic (like water bottles and milk jugs), and 20 percent recycled car bumpers and dashboards, the bridge is now America's longest recycled plastic bridge on a public roadway.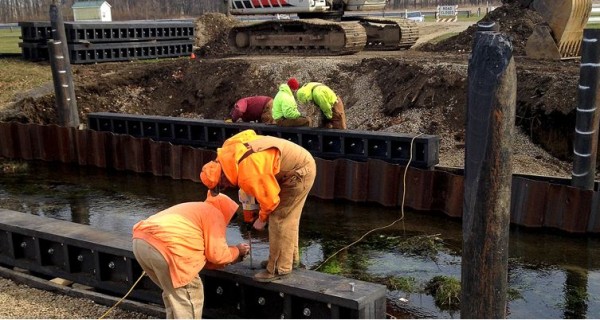 The Logan County community has a goal of being a zero-waste county by the 2020, so it only made sense that they would choose to build a bridge over Onion Ditch, a watery little creek bed that's just too deep for the average car to tackle.
The 24.6 foot Onion Ditch Bridge now bears the honor of being the longest span bridge made from 100 percent recycled plastic materials in North America and is only the second bridge of its kind on a public road, following one built using STRUXURE in York, Maine.
What might be even more surprising is that Axion is responsible for several tank and railroad bridges on domestic military bases–bridges that support heavy loads like 70+ ton tanks and 120+ ton railroad locomotives.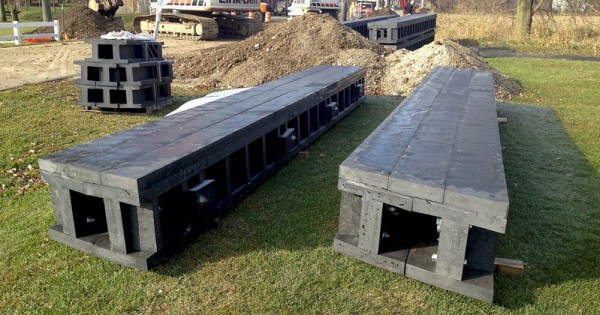 Using these recycled materials, the company claims that its bridges can be installed in just a day using local crews and equipment already on hand. And the recycled bridges are likely to outperform those made with traditional materials because they won't rust, splinter, crumble, rot, absorb moisture or leach toxic chemicals into the environment.
Since the Federal Highway Administration estimates that 143,899 bridges are either structurally deficient or functionally obsolete, and we need an annual investment of around $17 billion to bring them up to speed, an alternative that's both cost efficient and durable is a win.