Wooden rods, lattices, and louvers turn up increasingly as architects look for modernist ways to screen south windows from excessive solar heat gain. If I were an architect, I might have a sinking feeling about whether or not the contractor would come up with wood strips that were going to warp after a few years in the elements, turning all those neat parallel lines into a dried-up pot of spaghetti. If I were the client, I might have a sinking feeling about the cost of replacement every 10 or 15 years.
Enter cured wood products. And by the way, they excel in lots of applications, not just thin slats out in the sun.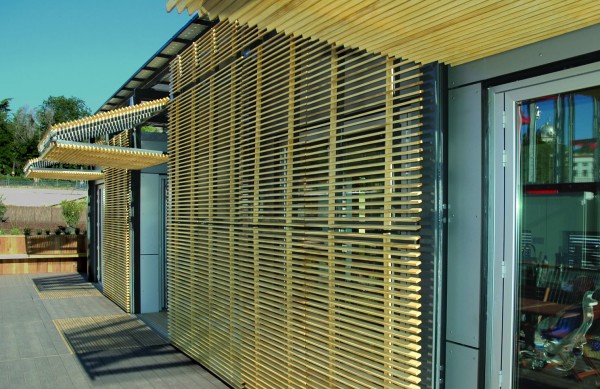 Curing is a way to take the cheapest, fastest-growing kinds of FSC-certified plantation-grown wood and turn it, non-toxically, into wood with the durability of pressure-treated and with the hardness and dimensional stability of tropical hardwoods like teak. With a price in the low tropical-hardwood range, but far more sustainable.
There are currently two big product lines. Accoya, made in the Netherlands, is acetylated wood: it's processed with acetic acid, essentially high-strength vinegar. Kebony, from Norway, is furfurylated wood, processed with furfuryl alcohol obtained from sugar cane waste, in a way that fills the wood cells with polymer. Both processes have been known and studied for decades, but became commercially available in the past decade.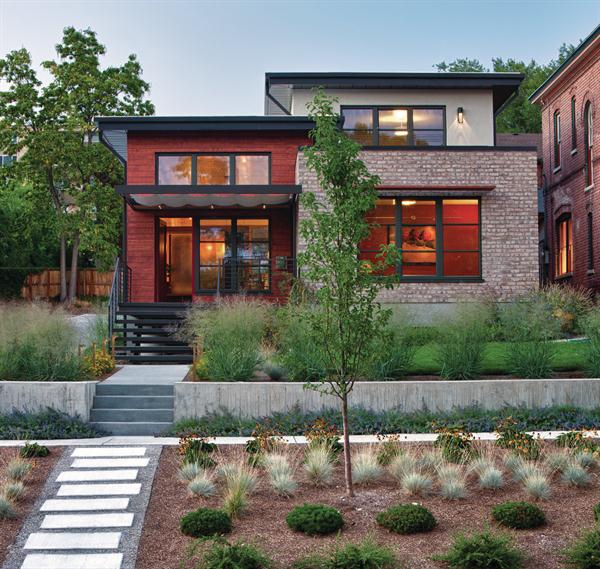 Both processes drive water out of the wood, alter it chemically, and leave it denser and almost impervious to water. That makes it highly resistant to shrinking, swelling, warping, rot, and insect damage. Kebony is said to take some finishes, but the company seems to recommend leaving it unfinished, starting out a warm dark color (much darker than the original wood) and aging, like ipe and many other woods, to a pale silvery gray. Accoya does the reverse: it does not darken at all in the factory, but if left untreated in the sun it blackens (and can look rather like trendy charred cladding). It takes paint well, and the paint lasts much longer than on uncured wood.
Kebony's three main product lines are cladding, decking, and yacht decking. Kebony cladding is the main material of a new community performing space, the Oslo Boathouse, on the Oslo harbor, designed and built by TreStykker, a recurring summer workshop of Norwegian architecture students. (Kebony was a sponsor of the workshop.)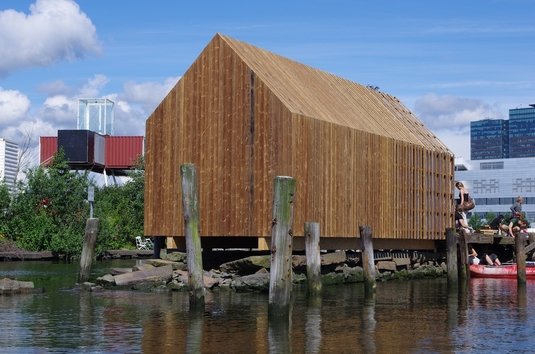 Accoya's line is more diverse, and they have also branched out (through a partnership with Medite) to make Tricoya, an MDF board, out of acetylated wood chips. Tricoya has a warrantied product life of 50 years, or 25 years in outdoor use.
Kebony, a Norwegian company, is prepared to sell in the US but seems to have no physical presence in the Americas. (Their US sales rep has a European phone number.) Accoya has a Dallas office; a Nebraska window and door manufacturer, EnerLux, produces a line of doors made of Accoya. I would expect that cured wood may well become accepted as the ideal material for high-performance window frames, combining the durable airtightness of fiberglass with the appearance and the green cred of wood.
Joost Vogtlander, a Dutch engineer devoted to producing life cycle assessments, assessed Accoya and gave it a high rating for its cradle-to-grave eco-cost. However, he acknowledged that local sourcing makes a big difference. Accoya's business model is a poor fit: the UK-based corporation kicked off the Accoya product line based exclusively on radiata pine (a California species) grown in New Zealand and processed in the Netherlands. If you want to use it in California, that's a really long trip.
Accoya is moving forward with additional wood species, including alder. One species of alder is abundant, fast-growing, ecologically beneficial, and cheap in my neck of the woods, the Pacific Northwest. It would be a perfect choice, if and when acetylation ever kicks off here.
Another sad recurring theme in my columns: #sustainablebuildingmaterialsmadeinEuropebutnotyetinNorthAmerica.