The folks over at Policy Matters in Ohio have issued a new report that says the Buckeye State could be a key player in the supply chain for the growing electric vehicles (EV) market in the U.S.
The report says that positive policy changes — like the increased fuel-efficiency standards put forward by the Obama administration, federal and state incentives for EV purchases, and investments in charging infrastructure — are succeeding at making EVs attractive to car buyers, and that could mean jobs in Ohio. If, that is, the state acts now to utilize the manufacturing knowledge of its work force and promotes existing manufacturers to get in the EV parts manufacturing market.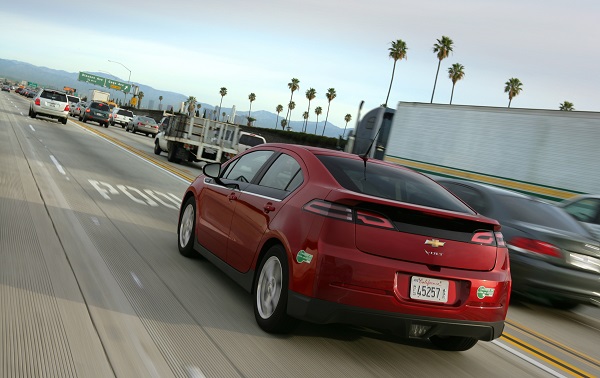 The group's Green Electricity and Transpiration (GET) Smart policy solutions are the vehicle to achieving this goal. They boil down to a few simple, but effective, ideas that will drive growing in the EV supply chain in Ohio. From the report:
Create a Transportation Choice fund in Ohio's transportation budget. By 2030, ramp funding up to 10 percent of the state's multi-billion dollar transportation budget;
Expand Ohio's Advanced Energy Fund and using it to provide grants, rebates, vouchers, and low-interest loans to promote EV adoption;
Protect and expand Ohio's clean energy laws;
Identify existing Ohio manufacturers that can participate in the EV supply chain, helping them retool to meet the needs of this industry, and investing in related research and development.
Notice that promoting clean energy and sustaining the work already done in the state is a vital component of their plan. Clean energy and electric vehicles go hand-in-hand.
Making sure the energy we use to charge electric vehicles is clean and renewable only makes sense. It reduces carbon pollution, while also creating even more good jobs in other sectors for workers making the components to generate power from wind, solar, and other renewable sources and those in the building trades installing and maintaining them. And, more and more ways are being developed to help EVs move excess energy back into the grid for all of us to use.
The bottom line is that to reduce our imports of foreign oil, make our economy stronger by creating new jobs and making our current jobs more secure, and fighting climate change, we need to move to more fuel-efficient vehicles, including EVs.

Editor's Note: EarthTechling is proud to repost this article courtesy of BlueGreen Alliance.