Sixty years after Sir Edmund Hillary and and Tenzing Norgay became the first men to summit Mount Everest, Microsoft and GlacierWorks have teamed up to honor their achievement in a unique way. Using their combined technical and mountaineering knowledge, the two entities have launched Everest: Rivers of Ice, an interactive website that provides an up close look at how humans and climate change have altered Earth's highest mountain.
Built entirely in HTML5 and containing gigapixel panoramas of life in the Himalayas, mountaineering non-profit GlacierWorks hopes the breathtaking comparative photography will help people cut through the hype and make up their own minds about climate change.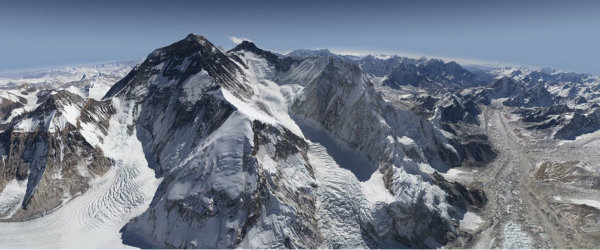 Creating the site required 14 expeditions to the Greater Himalaya over the last seven years. With them, the crew carried Canon 5D Mark II cameras complete with a number of Canon and Zeiss lenses. "The imagery is almost 7TB in size in total, with individual photos recorded at 5616 x 3744 resolution (21-megapixels)," explains The Verge. "GlacierWorks stitches the images together, with one particular photo resulting in a resolution of 120,000 x 31,840 (3.8 billion pixels)."
Technology from Microsoft's Rich Interactive Narratives (RIN) project helps turn the stitched-together panoramas into lifelike screens that can be manipulated with just a click or touch.
Visit the site's "Glacier" tab, and you're instantly transported to Everest's East Rongbuk Glacier. Or what's left of it. The full screen image is decidedly brown, though snow still caps the clearly labeled peaks. A click and swipe of the mouse rotates the entire image 360 degrees, giving you the feeling that you're standing there on the main Rongbuk Mallorey Viewpoint, looking at the dried up remains of what was once a robust glacier.
Click on any of the glacier detail tabs within the image, and you're provided with a comparative photos of the area: one taken in the 1920's, one just a few years ago. A tab slices the two in half so that they are different sites of the same photo. The comparison provides a sharp look at how fast and how drastically the glaciers have changed in a little over a single lifetime.