Iowa, with plenty already, looks like it will be getting more wind power.
MidAmerican Energy on Wednesday proposed planting up to 656 new turbines in Iowa soil by the end of 2015, adding up to as much as 1,050 megawatts of new generating capacity.
According to the American Wind Energy Association's annual report, Iowa had the third most installed wind capacity among the 50 states as of the end of 2012 (5,133 megawatts), and in 2012, wind's share of Iowa's electricity generation was a U.S.-leading 24.5 percent. (Plus: Facebook recently cited Iowa's abundance of wind power as a factor in its decision to build a data center on the outskirts of Des Moines.)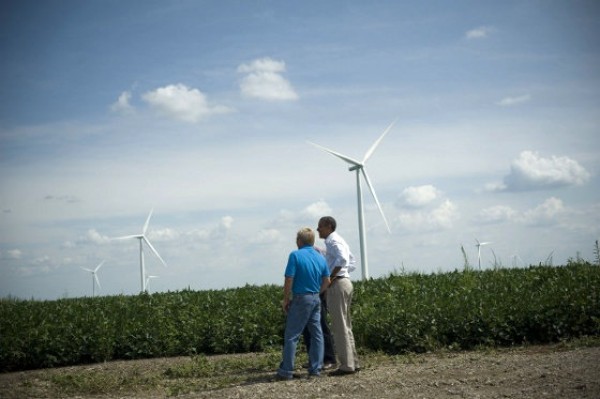 MidAmerican, controlled by Warren Buffett's Berkshire Hathaway company, is responsible for a big portion of all this wind power, owning and operating 2,285 MW of capacity in the state.
Iowa's politicians, many of them Republicans, have split with many in the party's national leadership to become big fans of wind, a fact that became a bit of a thorn in the side of GOP nominee Mitt Romney during last year's presidential campaign.
But what's not to love about wind for an Iowa pol? Wind is popular in Iowa. Consider what MidAmerican said its new $1.9 billion initiative will bring:
The wind expansion will enhance economic development and provide in excess of $360 million in additional property tax revenues over the next 30 years. Landowner payments totaling $3.2 million per year also are expected as a result of the expansion. In addition, the expansion is planned to be built at no net cost to the company's customers and will help stabilize electric rates over the long term by providing a rate reduction totaling $10 million per year by 2017, commencing with a $3.3 million reduction in 2015.
Republican Gov. Terry Branstad was quickly on board with the proposed wind expansion. "As a leader in wind generation, the state of Iowa welcomes the opportunity to expand our renewable energy portfolio," he said in a statement. "MidAmerican Energy's proposed project will be the largest economic development investment in the history of the state, bringing needed jobs to Iowa, as well as significant economic benefits."
MidAmerican said the new wind push was prompted by the extension of the production tax credit, which gives companies a 10-year, 2.3-cents/kilowatt-hour tax credit for power produced from wind farms that are under construction before the end of this year (a fairly loosely defined status that should make all of MidAmerican's planned new turbines eligible).
MidAmerican estimated that "by January 2016, when all new wind generation is expected to be operating," the company "may be capable of generating approximately 39 percent of its retail generation output through wind generation during that month."