Wind power devices on city buildings looks great, but the truth is it's woefully inefficient – in its conventional formats, that is, with horizontal or vertical-axis wind turbines. So why not try something completely different?
This qualifies: The "Strawscaper" concept proposed by Belatchew Arkitekter for a building in Stockholm. It would create a furry 40-story building that uses the piezoelectric technology to turn the air that moves around it into electricity.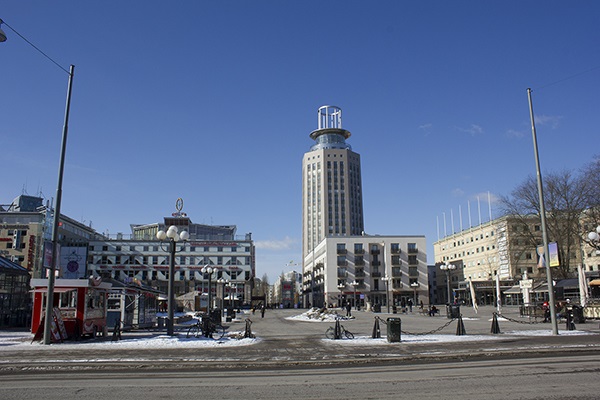 In some ways, this wild idea is the fulfillment of the Söder Torn building's destiny. According Belatchew Arkitekter, the current 26-story tower (pictured in its current state above) was supposed to rise to 40 floors, but by the time the buidling was completed in 1997 the original architect, Henning Larsen, was off the project and that was that.
Now, "Belatchew Arkitekter wants to give Söder Torn its original proportions and at the same time explore new techniques that could create the urban wind farm of the future."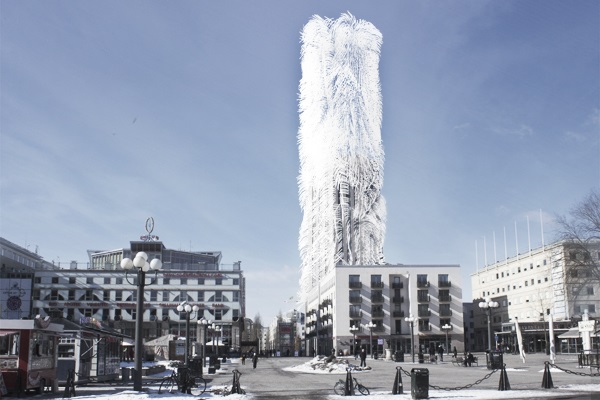 We actually see piezoelectrics at play frequently on the pages of EarthTechling, but almost always at a small scale, as with this pacemaker concept under development at the University of Michigan that uses piezoelectric materials – materials that accumulate energy under stress – to harness power from the mere vibrations of the heart.
But some have imagined putting piezoelectrics to use at larger scale, as with this Humdinger concept that was kicking around a couple of years ago.
Of course, being architects, Belatchew Arkitekter sees this concept for more than its utilitarian benefits. "(A)n an additional aspect is revealed when the constant movement of the straws creates an undulating landscape on the facades," the firm says of the transformed, fuzzy Söder Torn ("South Tower"). "What is usually considered to be the most static of all things, the building, suddenly comes alive and the construction gives the impression of a body that is breathing. The straws swaying in the wind gives the building a constantly changing facade further reinforced at nighttime with lighting in changing colors."