Want to see a volcano explode hundreds of meters below the surface of the Pacific Ocean? How about in real-time streaming video, online, from the comfort of your own iPad? Well, there's a massive scientific project underway that could help you with that, and more.
The Regional Cabled Observatory is a $239 million project, funded by the National Science Foundation. The goal: to better understand and monitor the depths of the Pacific Ocean – from volcanic eruptions to deep-sea earthquakes that could lead to tsunamis.
In a lab at the University of Washington, circuit boards, cables and brightly colored wires nestle inside the titanium skeleton of a cylindrical device about four feet long.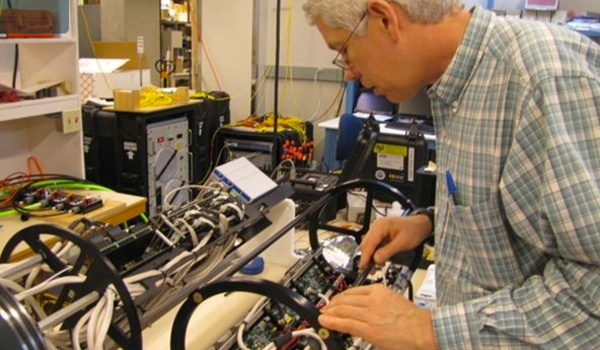 It's called a medium powered junction box and it's part of a system of monitoring devices that will be deployed around the Pacific Ocean off the coast of Oregon and Washington.
Read: Undersea Cable Laid For 'Transformative' Ocean Observatory
"It's a truly splendid piece of work," says Geoff Cram, a mechanical engineer with the Applied Physics Lab at the University of Washington who is working on the project. "It reminds me of what you'd see in the interior of a satellite. It's about that level of complexity."
In a way, this device is just that – a satellite – but instead of space it's about to embark on a mission to the depths of the ocean.
This summer Cram and a team of scientists from around the region will head 300 miles out into the Pacific to lower this monitoring device, and 11 others of its kind, thousands of meters beneath the surface.
Each monitoring station will gather data about a variety of ocean conditions and send it back to land via fiberoptic cable. That will include real time underwater video. And there is some really cool stuff happening down there, says John Delaney, a professor of Oceanography at the University of Washington and the head of the project.
"It's going to be gee whiz, here's what happens when an underwater volcano erupts and no one's captured the full drama and potential science that goes with a very dynamic very transient event that's hard to predict. We will be there."
And so will you. Delaney says in the coming years anyone with an internet connection will be able to watch real time video of the life forms, lava and explosions happening deep beneath the surface.
The public will also have access to the data – which will include underwater audio as well as measurements of deep sea currents, pressure, oxygen levels – and seismic activity – at some of the world's most geologically active underwater areas.
There's not much time left before launch and there is a lot of planning and testing still to be done. But Jeff Cram says he's not stressed. "Charged up, not nervous," he chuckles. "When I wake up at 2 in the morning this is what I'm thinking about."
The team heads to sea to deploy the monitoring devices in June.

Editor's Note: EarthTechling is proud to repost this article courtesy of EarthFix. Author credit goes to Ashley Ahearn.