Facebook's decision to build a new data center in Iowa in part because the state produces so much power from the wind has once more turned a spotlight to the state left out in the Midwestern U.S. wind boom: Nebraska.
The Nebraska chapter of the Sierra Club said the state was missing out on economic growth opportunities by "clinging to the past, operating old coal-fired power plants across the state rather than making smart investments in our abundant wind resources."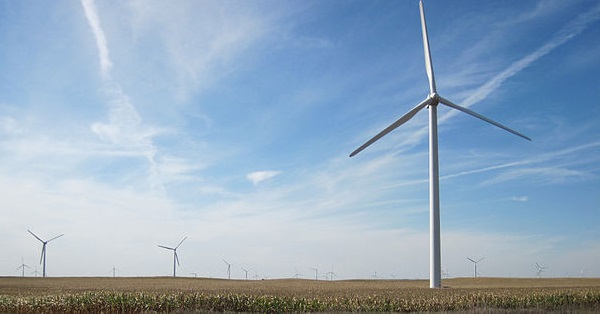 Facebook said last week that it would set up server shop on the outskirts of Des Moines in Altoona, Iowa. Kearney, Neb., had been competing hard for the center, but Facebook cited the abundance of wind power in Iowa as a key lure. According to the American Wind Energy Association's annual report, Iowa had the third most installed wind capacity among the 50 states as of the end of 2012 (5,133 megawatts), and in 2012, wind's share of Iowa's electricity generation was a U.S.-leading 24.5 percent.
Nebraska? It has less than a tenth the wind power Iowa has, with a mere 459 MW of installed capacity as of the end of 2012, putting it 23rd in the United States. This despite the fact, as the Sierra Club pointed out, that "Nebraska ranks fourth for wind potential in the United States, ahead of Iowa, which ranks seventh."
The Sierra Club has recently been stepping up efforts to get Nebraska to join its neighbors and take advantage of its wind resource. Last October, a report co-authored for the Sierra Club by American Council for an Energy-Efficient Economy fellow John A. "Skip" Laitner, said "(p)roductive investments in wind energy systems and more energy-efficient technologies can provide more than half of Nebraska's electricity needs by 2030."
The report went on to say that wind could help drive the growth of "14,000 new jobs for Nebraska's economy while saving businesses and consumers a cumulative of $3.8 billion in lower electric bills over the next two decades – meaning a net benefit of more than $2,000 for every resident in the state today."
Data centers themselves don't employ a great number of people, but building them does. It's estimated that Facebook will spend a whopping $1.5 billion to build in Altoona.
Meanwhile, Google has decided to expand a data center in Council Bluffs, Iowa, just over the state line from Omaha, Neb.
There might be hope for Nebraska, however: Legislative Bill 104, which would provide new tax incentives for renewable energy development in the state, advanced for further consideration last week.  The bill was listed as a top priority of the Sierra Club this year in Nebraska, while it is opposed by the anti-government group Americans for Prosperity.