Conservation is still the easiest way to eliminate wasted energy, but there are some things we just can't go without. Unlike your bathroom light or TV, streetlights need to stay on so both drivers and pedestrians can feel safe after sunset.
Urban Green Energy (UGE) recently completed a case study using wind and solar-powered streetlights in PingQuan, in the Hebei province of China. By eliminating the need to trench the wires used by traditional streetlights, and generating their own electricity, the new luminaries are saving the province some serious cash.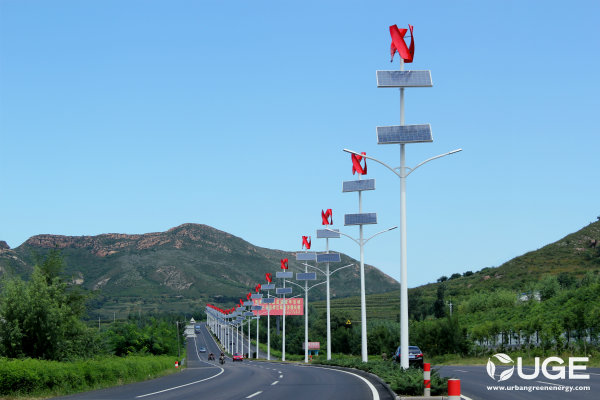 The stretch of the road previously didn't have streetlights, so when adding them the city had two goals: make an aesthetic statement, but work within budget. To meet these ambitious goals, UGE installed 105 streetlights which each feature one HoYi! wind turbine and two 280W solar panels. The combination of two renewable energy technologies ensures that the lights always have enough power for illumination, whether it's day or night.
The lights are the first of their kind and illuminate a long stretch of the highway entering the city of PingQuan, providing a dramatic entryway to the city. Because of the tremendous savings offered by this off-grid technology, the city saved hundreds of thousands of dollars that would have been spent on burying wires and piping in coal-fired electricity. By avoiding both, PingQuan was able to choose a high quality, long lasting, aesthetic option at no more cost than a typical install.
"We love it," reports PingQuan's procurement manager. "We haven't had a single issue since they were installed, and people ask about the project all the time. Almost every day we have people stopping to take pictures."