Summer is just around the corner, and with the warm weather comes all sorts of opportunities for fun and exercise. Those living in regions that experience all four seasons know that bikes are often swapped for cars and public transit during the winter (and soggy spring) months.
It only takes a few days of warm weather to make bike commuting seem attractive, however, and if you're brushing off the old spokes, we've discovered a gadget you might want to bring along. The Siva Cycle Atom is a bicycle generator and rechargeable battery pack designed to power virtually any of your electronic or mobile devices via USB. The best part is, it works just as well off the bike as on. Meet us after the jump to learn how.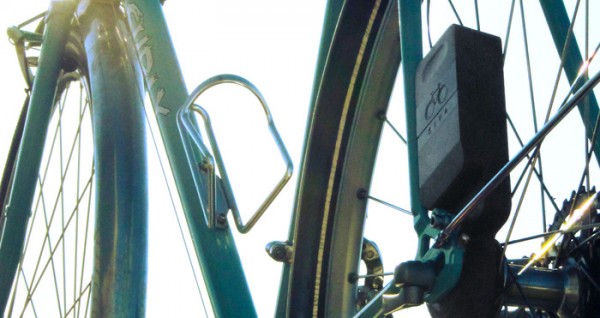 A fully-charged phone is the perfect companion for a long bike ride. Not only does it keep you connected in case of an accident or unexpected flat tire, the GPS can be really helpful when navigating uncharted territory. But phones have a funny way of dying right when you need them most. The Atom guarantees that as long as your pedals are pumping, you'll have power wherever you go.
Designed with top of the line magnetic rotors and powerful lithium batteries, the Atom harnesses the kinetic energy generated by your spinning tires. The best part is that the battery pack is removable, so once it's full of bike-powered energy, you can snap it off and continue charging at home or your favorite coffee shop.
When you're riding at a rate of 3mph, the Atom outputs 0.75W; at 10mph it's pushing 3W, and at 15mph it is capped at 4.5W. Power is always delivered in a regulated manner (5V @ up to 500mA), providing only the amount of juice your device specifically demands, explain the creators. "Excess power goes to charge the battery or (if battery is full) is released to protect your electronics. This means your device is always safe, even if you're screaming downhill at 30mph!"
Want one on your bike? Check out the Atom's Kickstarter page here.