When it was first built in 1932, the Spanish-mission-style Robinson Laboratory of Astrophysics at Caltech in Pasadena, Calif., contained the world's largest solar telescope, used to bring scientists closer to understanding the sun's dynamics. Today, more than 80 years later, the apparatus is being used in reverse, to bring sunlight down into the rest of the refurbished lab space.
The Robinson Lab in now the shared home of the Ronald and Maxine Linde Center for Global Environmental Science, dedicated to the study of climate change and how to lessen its detrimental effects. The renovated building recently earned a LEED Platinum certification for being one of the most energy-efficient labs in the country, employing various sustainable technologies that include solar panels, fuel cells, daylighting and a chilled-water cooling system.
One of the highlights of the renovation project, designed by San Francisco-based Architectural Resources Group, is the ingenious adaptive reuse of the old solar telescope, known as a coelostat, which has long since been superseded in the solar research field by superior technology. Rather than pull out the coelostat, the designers decided to make use of its light-collecting abilities. Through the use of strategically placed mirrors and fiber optics, the telescope now bounces sunlight down through the building's central shaft, bringing sunlight deep into the underground lab space.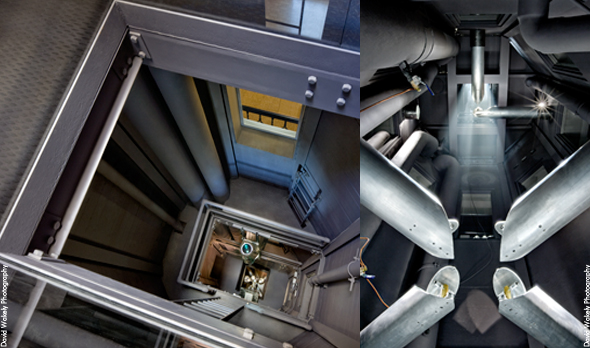 At the bottom of the 50-foot shaft, which once held machinery to move the telescope, the space has been modified to hold 58,000 gallons of water. This water, using geothermal massing properties, remains cool at this depth and is used to chill the building during the day via radiant ceiling panels. Much of this thermal massing is made possible by the original thick masonry walls that insulate the structure and the relatively small ratio of windows to external surface area.
The above-ground floors were renovated with a strong focus on the use of sustainable materials while still maintaining the look of the historic vaulted-ceiling interiors. All exterior windows were also upgraded with new energy-efficient panes. The basement floors containing new climate science labs were completely revamped with state-of-the-art equipment, leaving more room for expansion if needed.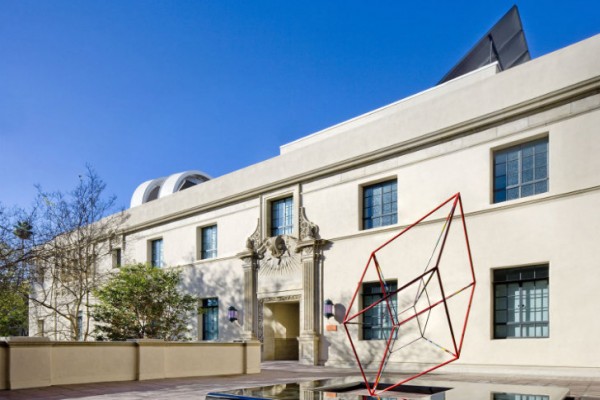 Around the grounds of the Caltech facility, native and drought-tolerant plants were used whenever possible. Rainwater is also collected in an underground cistern for irrigation use. On the roof, a 30 kW photovoltaic system supplies electricity, which is supplemented by a biogas-powered fuel cell on site.
All together, the various systems consumes about one-sixth of the energy that comparably sized conventional labs would use, according to figures for Architectural Services Group. Not a bad track record for a building entering its ninth decade in service.