A new series of energy-efficient prefab houses recently debuted in Norway and Sweden that echoes the historic rural architecture of the region while retaining the classic modern simplicity of Scandinavian design. Next week, at the Milan Design Week 2013, the Tind series, by Swedish designers Claesson Koivisto Rune, will be introduced to a worldwide audience.
The name Tind comes from the Norwegian word for the eroded Scandinavian mountains that have had their peaks ground down by previous Ice Ages. In a nod to the local landscape, the Tind houses each have a single sloped metal roof, common to most traditional Swedish homes, only the peaks have been flattened at the top, giving a more rounded look to the classic lines.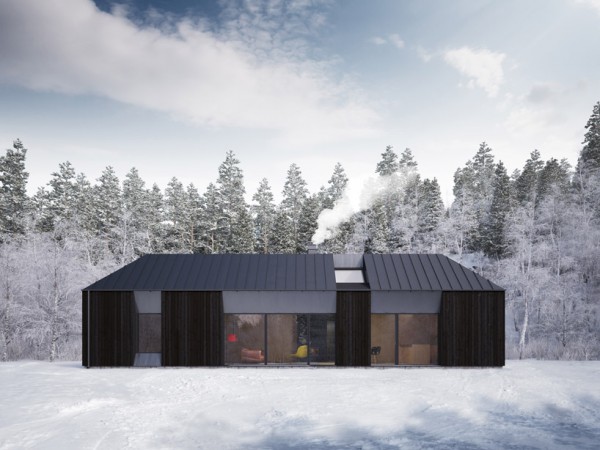 The pitched roof also includes window cutouts that draw natural light into the wood-paneled interior. On one side of the house that can be sited with a southern exposure, sliding glass doors and floor-to-ceiling windows let in even more light, blurring the line between interior and exterior. The deeply recessed windows within the thickly insulated walls are beveled above and below to hide the joists and ensure that sunlight will reach into the home.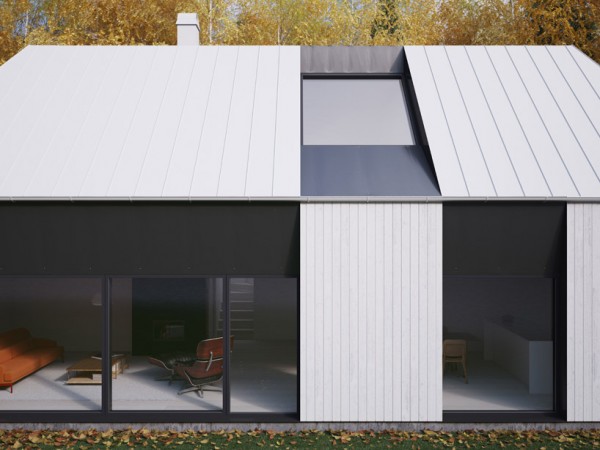 Because the homes are prefabricated, the Swedish builder, Fiskarhedenvillan, is able to speed up delivery time and cut down on construction waste. The homes can be customized in one-, two- or three-story configurations. In the examples provided by Claesson Koivisto Rune, the outer wooden wall and metal roof panels of the homes come in black, white or barn red.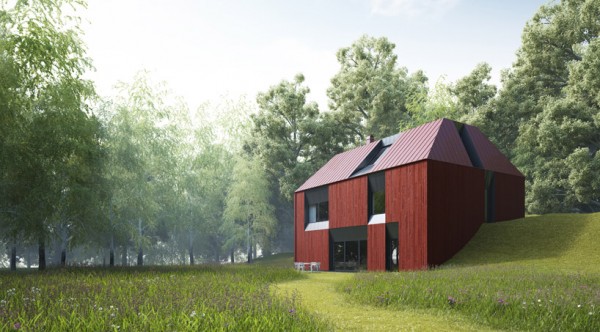 In the three-story model, the home can be built with the bottom floor partially buried into a hillside, which can enable the residents to take advantage of thermal massing to help regulate temperatures during the extremes of the winter and summer months. Each of the three homes also features an open floor plan that allows for a high degree of flexibility.