Last fall's Hurricane Sandy was an alarming wake-up call for much of the Northeast, which remains vulnerable to the increasing power and range of today's tropical weather events. It was a disaster that forced New York City planners to answer some tough, sobering questions, such as: What will we do about our lifeguard towers? (Well, you have to start somewhere.)
Though it may not seem like a priority, given the devastation felt by so many residents, conventional lifeguard stations are likely to be the first manmade structures to go down on in the next mega-storm event, so now is a good time to try some experimentation with sustainable, storm-proof designs.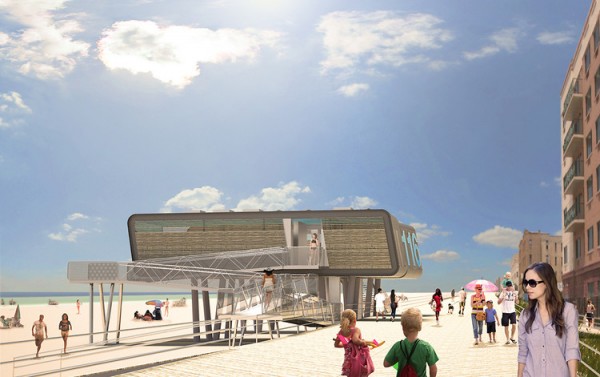 That was the basic thinking behind these elevated lifeguard stations, designed by Garrison Architects for the beaches of New York. Not only are these modular units designed under FEMA recommendations to be elevated above the height of Sandy's storm surge seen last October, they are also net-zero energy structures, powered by solar panels on the roof, along with solar hot water heaters. The structures will also include skylight ventilators to keep the lifeguards cool while on duty during the summer.
To save on construction costs and cut back on material waste, these modular units will be built off-site and transported to various locations on New York's beaches and connected to the ground via wooden ramps. The units will also be modified for use as comfort stations and beach personnel offices. The outer skin of each unit will also be made up mostly of salvaged wood from the miles of boardwalks in the area that were destroyed in Sandy's storm surge.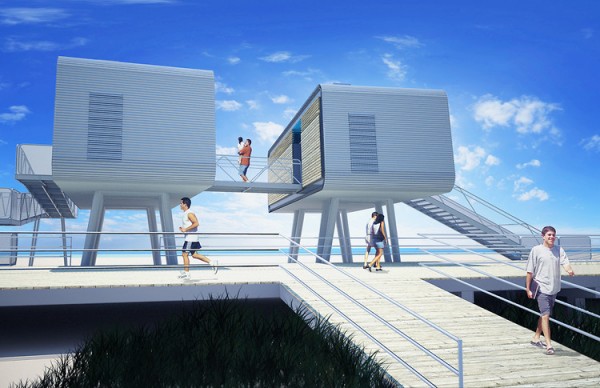 Working on a fast-track schedule that only began at the end of last year, Garrison and the city expect to have nearly 50 of these modular units in place on the shores of Coney Island, Staten Island and Rockaway Beach as early as Memorial Day this year to kick off the summer beach season.
Speaking with Co.Exist, Garrison Architects founder Jim Garrison said the lifeguard station initiative may be the first time that a major American city has truly thought ahead and made some tough decisions about the consequences of larger and more frequent storms that are being driven by climate change. These humble structures, he added, may serve as a model for other vulnerable areas to be prepared.
In addition to the stations, the project also requires the restoration of the original protective sand dune system, which acts as a natural barrier against storm surges. Decades ago, most of these dunes had been flattened and replaced by the region's famous boardwalks. In some places, these boardwalks may never return — part of the new reality of a warmer, stormier world.