Not every green home requires a bounty of solar panels or other systems to produce clean energy. Conserving energy is the cleanest energy of all. That's what this 2,500-square-foot vacation home in northern Vermont accomplishes with some serious energy monitoring—while celebrating its habitat by bringing nature indoors.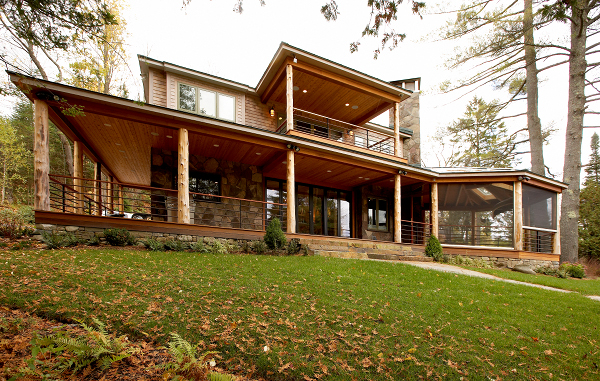 This lakeside vacation home conserves energy with a Savant SmartEnergy Monitoring System and automated home controls. Photos by Gerry Evelyn
Green construction materials and the addition of a sophisticated energy monitoring and management system help save on energy bills. Even better, the home never compromises the family's convenience or its love of today's digital technologies. There's a home theater capable of 3D video and a whole-house audio system with in-ceiling speakers that syncs music on digital devices with Apple TV boxes for easy streaming of their favorite music.
Modest Beginnings
Homeowners Tim and Nancy Howes liked visiting Tim's mother's lakeside retreat in northern Vermont so much, they bought her neighbor's cottage several years ago. But they couldn't stay in the uninsulated structure more than a couple of months of the year, so they drew up plans for a new house.
The living room, with its popup LED TV, is decked in nature, from the mural to the fireplace that drips of green.
The architects designed a cottage with modern Adirondack look, Nancy came up with ideas to bring in stones and trees and hired artists for the murals. Local materials were used in the construction, and a super-efficient boiler was installed for heat. There's lots of insulation and very little air conditioning. As a finishing touch, custom electronics company simpleHome of Massachusetts and Vermont would provide the high-tech conveniences of control and audio/video systems.
The site wasn't a great location for solar power or geothermal heating, but Tim and Nancy found other ways they could save energy. In the middle of project, simpleHome proposed Savant Systems'SmartEnergy Monitoring System that can measure the electricity used on 84 circuits in the house—so the family could check their energy consumption on their iPads when they're in residence or from afar. "It really helps us manage the house from an energy viewpoint," Howes says.
Monitoring and More

The project uses nearly the entire Apple-based Savant control line, sans lighting control, which is done by a Lutron HomeWorks system. Audio/video, security and HVAC scenes are accessible via the Savant In-wall Control Docks for iPod touches, while the Lutron keypads operate lighting.
Most of the lights are energy-saving Cree LED lamps, and even more energy is saved by occupancy sensors that trigger the lights to turn off when someone has left the room.
If Tim and Nancy want to see much energy the house is using, they just press the energy icon on the Savant TrueControl iPad app, and it takes them to SmartEnergy Monitor.
Here they see an easy-to-read gauge of the energy used in the house as a whole and by an individual circuit or system—by hour, day, week, month or year. Tap on the lighting slice of a pie chart of energy consumption, for example, and the app takes you to the lighting controls page, where you can adjust the lights to save energy.
"I can look at it at any time and see a clear display of how much energy the house is using, and see how much is being used by lighting, A/V and other systems," says Howes. "Look at that for a short amount of time, and you quickly see where your energy is going."
Three of the Savant SEM-1024 SmartEnergy Monitors (black boxes below two electrical panels on right) read electricity use from those generator-connected circuits via current transformers (CTs) that clip around the wires. Another SmartEnergy monitor measures the draw from non-generator-tied circuits on the left.
Howes can see how much energy is being used by the LED lights throughout the house, "and when the dryer kicks on, holy cow!" The meter will spring from a few hundred watts to 5,000 and more.
"On a daily basis I can go in and make sure whole house is shut down at night. I really know now how much energy the house is using, and I'm empowered to control it," he adds.
Far Away Mode
The house also has an away mode that automatically turns off all lights, audio and video, sets back thermostats, turns off amplifiers and unnecessary devices in the rack, cuts the water supply into the house to mitigate an undetected pipe freeze, and basically puts the house in an energy-minimized state, says simpleHome general manager Craig Heim. This is useful, as the home is not occupied for months during the year.
In  addition, emails go out to a local property manager and the homeowner in the event of a water leak or a system using too much energy. SimpleHome can also be alerted to service anything, and can reboot some components like the redundant DSL modems via an Internet-connected Panamax BlueBolt system.
It's all centrally controlled from three racks in the basement and a mechanical room with the lighting control panels and 13 thermostats. "The beauty of centralized control is that it gets equipment out of the room so it doesn't compete with the aesthetics," says simpleHome's Heim. Centralized control of a home can also save on wiring, depending on where the equipment racks and mechanical rooms are located.
Even with this bounty of digital automation, the beauty of the great outdoors is never more than a step or two away—inside or outside. Just by entering this brave new home, the Howes family auto-syncs their iDevices, knows their home is saving energy, and appreciates how our natural and digital worlds can make beautiful music together.

Editor's Note: EarthTechling is proud to repost this article courtesy of Greentech Advocates. Author credit goes to Steven Castle.