By breaking new ground – literally – enhanced geothermal system technology is unlocking heat trapped deep beneath Earth's surface and, for the first time, turning it into electricity on the U.S. grid.
The U.S. Department of Energy said an Ormat Technologies EGS project that it backed with $5.4 million (to go along with $2.6 million in private sector money) had boosted production at a Churchill County, Nev., geothermal field by 38 percent, pumping 1.7 megawatts of new power to the grid.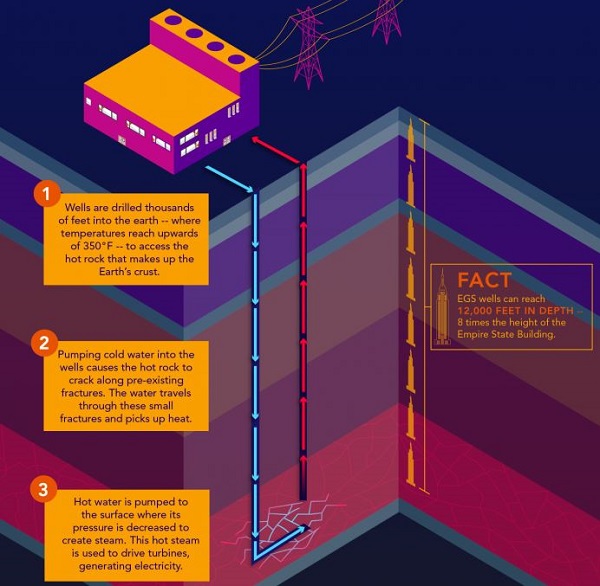 Traditional geothermal relies on finding a combination of hot rock, water and permeability. The basic outline is to drill a hole, pull up the hot water and steam and use it to turn a turbine to produce electricity. Simple.
Unfortunately for we power-hungry humans, nature doesn't always bring that trio together in a convenient location. Thus, the interest in EGS, wherein pressurized fluid is forced into hot, dry rock formations, causing a web of fissures to develop in the rock. The fissures can then be filled with water, which becomes heated and is pumped up to the surface to be used to generate power. In a happy closed loop, the cooled water is sent back down to gather up more heat.
"We achieved an increased injection rate up to 1,600 gallons per minute without consuming or discharging water at the surface and using only existing geothermal brine returned to the original aquifer," Lucien Bronicki, chief technology officer for Ormat, said in a company statement.
"Our objective in the Desert Peak EGS project was to demonstrate that this technology can have a significant impact on sub-commercial wells. This could enable us to use unproductive wells to generate more power and new revenue."
The Department of Energy is hoping for more of this kind of thing. In Oregon, AltaRock Energy, with the help of a $21.4 million DOE matching grant, is using EGS to develop geothermal at the Newberry Volcano near Bend.  In all, the U.S. Geological Survey estimates that EGS in the United States has the potential to enable development of 100 to 500 gigawatts (GW) of geothermal resource capacity; currently, the U.S. has a world-leading 3,386 MW of installed geothermal capacity.
For more about EGS, the DOE has some good animations of how it works on their website.