Hope or dismay?
Stanford University renewable energy schemer/dreamer Mark Jacobson and his co-authors are presumably trying to imbue us with the former, laying out a scholarly plan [PDF] for how New York state can power itself completely by "wind, water and sunlight" by 2050. But when you read the details, it might be hard not to think: OMG, there is no fracking way we're going to pull that off.
And indeed, for several hours after Andrew Revkin reported on the plan on Tuesday, with a New York Times story headlined, "Can Wind, Water and Sunlight Power New York by 2050?" a lone reader comment stood posted in reply: "Answering this question takes just two letters: N and O. Refer to the discussion of Popular Mechanics promising 'a flying car in every garage' and 'freezer-sized nuclear power plants in every home.' Pie-In-The-Sky."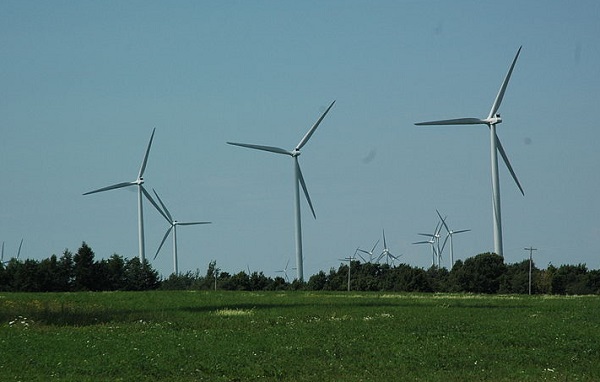 Clearly a cynical SOB. But even the less jaundiced might have a hard time digesting the plan without waving a white flag of surrender to the malevolent forces of fossil fuel, not to mention inertia. Revkin, seemingly sensing that possibility, offers that "the analysis works best as a thought experiment, given the monumental hurdles – economic, political, regulatory and technical – that would hinder such a shift."
Monumental is the word, given the new energy infrastructure required to be in place in the state by 2030, a mere 17 years from now, on the way to the 2050 vision. On the energy production front, let's go through what the plan calls for vs. what now exists:
4,020 5-megawatt wind turbines (New York has zero that size today);
12,700 5-MW offshore turbines (it has none of any size today);
387 100-MW concentrated solar plants (none today);
828 50-MW solar PV plants (today: one 32-MW plant and a 5-MW plant);
rooftop systems totaling 75 GW in capacity (the entire country had 3.8 GW of rooftop installed as of Sept. 30, 2012);
36 100-MW geothermal plants (there are none today in the state, and 3,600 MW is more than the current U.S. geothermal capacity);
1,910 750-kilowatt wave devices (strictly in development);
2,600 1-MW tidal turbines (there's one operating in the whole country);
6.6 1,300-MW hydroelectric plants (nearly all of which exist!).
All of this, the study says, would "improve the health and welfare of NYS residents, thereby lowering their medical, insurance, and related costs, and is expected to create jobs to manufacture, install, and manage the infrastructure."
And while you might dispute the assumptions they use to get there, they authors also say the plan is technically and economically feasible. So all it comes down to is politics. U.S. politics, where the slightest incremental step forward, amounting to about one-thousandth of what this plan outlines, is hard to come by.
Hope or dismay: What's your reaction?