Brock Archer is something of a celebrity amongst the circles of emergency responders, particularly firefighters. A former assistant fire chief from California, his career now consists of traveling the world teaching auto extrication techniques to safely remove passengers from automobile wrecks while minimizing harm to fire personnel. With the advent of the need for such teaching with regards to electric vehicles, he is tackling that through a video that gets at the meat of the matter, so to speak.
Archer, working with fellow instructor Ron Moore, recently literally tore into an expensive Model S, donated by Tesla Motors, in order to teach firefighters what is necessary when handling an electric vehicle like this to remove those trapped within. Assisted by the Fremont Fire Departement in Calif., according to Archer's site, this 37 minute video looks in detail at "basic electrical concepts, high voltage components, and operational considerations that rescuers should be aware of when operating around" an EV.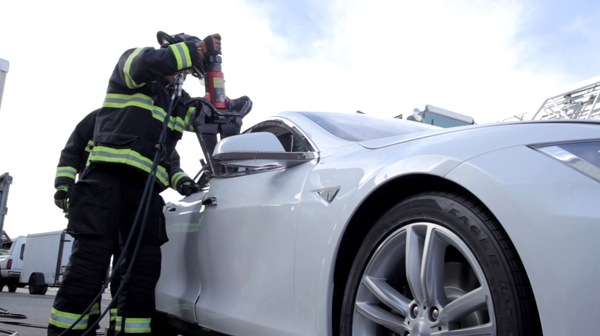 "Similar to new building construction features, new vehicle features create new challenges for rescuers; with all the new electric and hybrid vehicles on the roadways, high-voltage components have become a new concern for rescuers," Archer said in the video, according to Fire Engineering.
The video, which can be seen in its entirety below, may be of particular interest to those just curious what the insides of a Model S look like from the 27th minute onward. It is there firefighters get into tearing open the electric vehicle as Archer talks about the steps being done. It really gives you a detailed idea of the concerns rescuers must face as they cut into these types of cars.
Archer also has some detailed documents which talk more about what he's highlighted in the video. One thing he notes in particular with regards to the body frame of the Model S here is that
Another thing to consider, if you receive an extrication assignment at an incident involving a Model S, is that almost all of the body structure is stamped aluminum construction.  With this type of body structure, we will see a very different reaction to cutting and crushing  than we do with typical steel construction.  Aluminum does not bend or rip like steel; instead it tends to break, often causing our cuts to extend beyond the end of the cutter tips.  While pushing against aluminum, we might find that the metal doesn't bend like steel and instead will hold form until it suddenly breaks.
Given that concerns have arisen in the past around the safety of firefighters and others when dealing with issues like electric car batteries and such, a growing awareness is being pushed around the nation and beyond about necessary skills. This includes training sessions with hands-on electric car experience.