The continued trickle style proliferation of electric cars and hybrids into first responder fleets around the globe takes us this time to the United Kingdom. It is here Yorkshire Ambulance Service plans to trial an extended range Vauxhall Ampera (Chevy Volt) as part of its emergency fleet.
This trial, which is expected to go for at least the next few months, is the first of its kind in this country, according to the Press out of the York area. This likely refers to the fact the Ampera is being tagged as "the first electric vehicle to be trialled by an ambulance service on a long-term basis," as opposed to other plug-in vehicle trials which have happened in the UK tied to police related activities.
Though labeled an ambulance by Vauxhall, the Yorkshire Ambulance Service and others, it isn't what you'd traditionally think of as a ride along offering like ones seen wailing down the roads with critical injuries aboard. Our speculation is it probably will be used to transport non-critical care patients as well as carry emergency supplies of a more limited nature than that aboard a regular ambulance.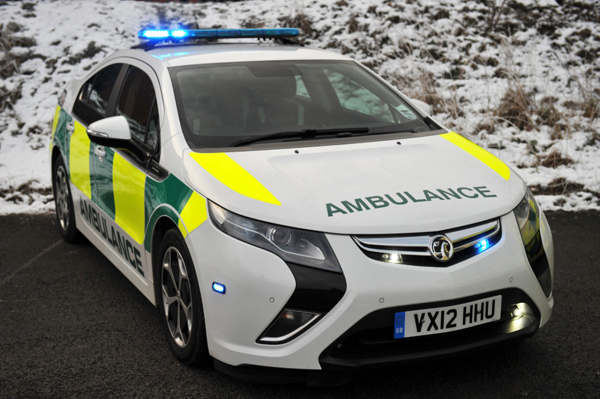 The goal of this trial is to see how low carbon vehicles can be used to respond to incidents while helping reduce emissions and saving money otherwise spent fueling emergency vehicles. The City of York Council has agreed to support the trial by making plug-in electric charging points available across the city, according to Vauxhall, and the Ampera joins a fleet of more than 900 emergency vehicles in the area.
"I very much welcome Yorkshire Ambulance Service's move to introducing lower emission vehicles to its fleet, said City of York Councillor Dave Merrett, Cabinet Member for Transport, Planning and Sustainability, in a statement. "This is a first for the UK and an initiative I hope other emergency services will adopt."
Besides deployment of greener emergency vehicles in the UK, other parts of the world trying out these alternatives include areas of China and France.