The European nation of Estonia, by most accounts, isn't all that large of a country compared to many of its neighbors. Measuring just over 17,400 square miles, it, for most of its history, has been overshadowed by its big neighbor to the east Russia. It is a technologically advanced land though, described as one of the most wired nations in its part of the world and now as the first globally to open a nationwide EV fast-charging network.
The network, consisting of 165 CHAdeMO-standard fast chargers, was officially opened for use late last month. Each Estonian town, as well as bigger villages, now have their own fast chargers; the stations installed along highways maintain a minimum distance of 40 to 60 km, or 25 to 37 miles.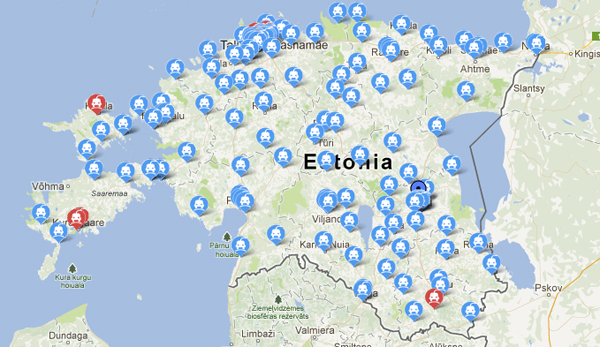 For those living in, or perhaps passing through, Estonia, the pricing for the fast EV charging network seems reasonable. One time charges run between 2.5 and 5 euros, though for those who want an all-you-can-charge option, one exists at a mere 30 euros per month.  The in-nation chargers, which have been up and running in stages since last summer, allow for an electric vehicle's battery to be charged up to 90 percent in under half-an-hour.
The construction of the fast-charging network was financed by using funds received pursuant to a CO2 emission quota sales agreement entered into between the Republic of Estonia and Mitsubishi. Though Estonia now has this network in place, it still lacks a critical mass of in-country electric cars to make use of it. There are only 619 vehicles registered, with around 500 of these being used by various governmental bodies. Still, the notion that these EVs don't have to go far to find a public charging point is something which should be seen as an encouraging development to other nations working to build out their own charging infrastructures.
"What makes the Estonian fast charging network unique is the fact that it uses a uniform payment solution and you can either use an authorisation card or your mobile phone for making the payment," said the head of the Estonia's EV program, Mr Jarmo Tuisk, in a statement. "We believe that a nationwide grid of quick chargers encourages growth in the number of EV users, since the drivers no longer need to worry about a somewhat shorter driving range of their electric vehicles."