Brammo, maker of sporty electric bikes, is again teaming up with bike sports gear designer Icon for this year's international ebike racing series, TTXGP.
The two companies formed Team ICON Brammo last year when Icon was the title sponsor for Brammo's at TTXGP. The design company showcased its "Stack" livery and latest Airmade helm at the races while racer Steve Atlas went to win the International TTXGP Championship for Brammo on his Empulse RR.
Atlas returns for the 2013 races and will again ride his white "Big Game" ebike and Icon-designed uniform and protective gear. Team ICON Brammo have also brought on board racer Eric Bostrom as well. Look for the rider and ebike all dressed in "Sauvetage" neon orange designed by Icon. (See image.) You'll have to be blind to miss them.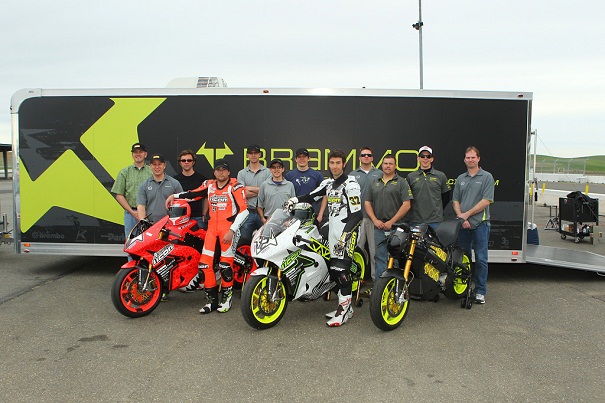 Says Brian Wismann, product development director for Brammo, "The Brammo racing team is stoked to be working with Icon again this season as a primary sponsor for the Empulse RR bikes that will be campaigned by Eric Bostrom and Steve Atlas in the FIM/TTXGP electric motorcycle racing series and in the AFM race series. Icon was a great partner in 2012 and their willingness to 'push the limits' in design, aesthetics, and functionality of the gear they develop has made them a perfect fit for Brammo and the pioneering spirit of driving EV technology forward on the racetrack. We got a ton of positive feedback on the 'Stack' graphic that debuted on Steve's World Championship winning Empulse RR in 2012, and can't wait to see what people think of the 2013 Zebra and Cheetah!"
Brammo is updating its ebikes for the races, with more sporty fairings as well as improvements in motor power and battery efficiencies. The standard Empulse R is powered by a 40kW electric motor generating 54 horsepower and around 46 lb.-ft. of torque. Top speed is 105 mph. The ebike's maximum range for city driving is 121 miles, 56 miles highway, and 77 miles combined. Recharging the R's lithium-ion batteries takes rough three hours with a Level II charger and 8 hours with a Level 1 (household) charger.