There are many progressive minds in Houston, and its residents do care about resource conservation. But let's face it: The city, as a whole, did not become the 4th largest in the country by the most environmentally sustainable means. Houston is a city built on oil revenues, air conditioning and Wild West zoning laws, with a municipal recycling rate that stubbornly refuses to rise above 14 percent.
Given the city's history, it's a bit surprising, then, to see green building innovations come from the Houston area. Local husband-and-wife architects Matthew and Tina Ford, founders of Shade House Development, have built a collection of deceptively simple row houses near downtown Houston that are putting up some impressive energy-efficiency figures.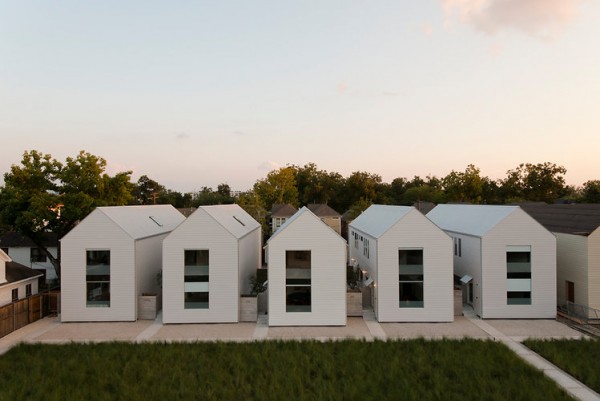 The development, a group of single-family houses called Row on 25th, is located in the fashionable Houston Heights neighborhood, where the simplicity of the designs stands out from the rest of the more conventional colonial-style homes in the area. Currently, five of the planned nine 1,900-square-foot, two-story homes have been built, at a price of just $170 per square foot.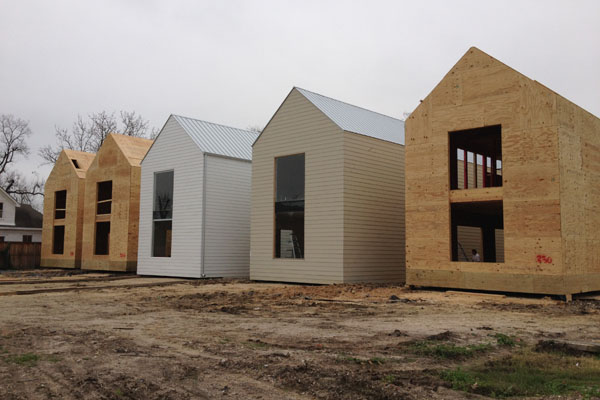 Each building's envelope contains many passive systems to increase its thermal efficiency, including a radiant barrier house wrap and heat-reflecting roof tiles, which help to reduce solar gain in the brutal Houston summers. A large window on one end extends to both floors, drawing in natural daylight to reduce energy use. The air-conditioning ducts are also placed counter-intuitively in the basement, rather than the much hotter attic, to ensure that the cool air is does not get warmed up before it is distributed through the house.
According to a recent profile of the Fords' work in Dwell magazine, one of the keys to the high thermal efficiency of the structure comes from the no-frills design of the roof. Made of easy-to-build wooden materials, with no fancy gables, bends, angles or other ornamentation, the roofs can be built quickly and cheaply without the need for especially skilled labor.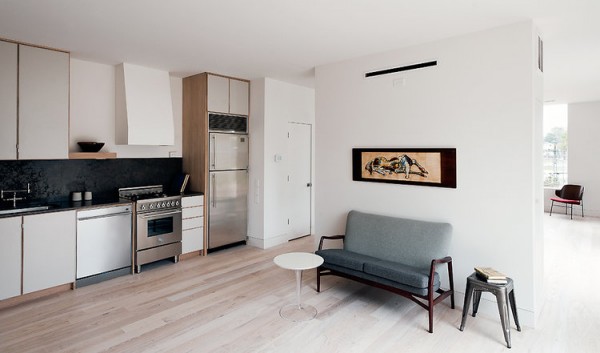 The houses are similarly stripped of adornment in other areas as well; there are no gutters, shutters or interior moldings. There is just a repetition of the classic, stark-white vernacular house shape, which the Fords said was inspired by the work of minimalist designer Hugh Newell Jacobsen.  On the inside, the Fords designed their own cabinetry, which was constructed at a site within 90 minutes of the Row on 25th site.