Robots are important scientific instruments that can teach us a lot about our world. But deep down inside, we all want the same thing: a mechanical being that can do all the things we can't (or don't want to). In that purely self-interested vain, we present Bartendro: a modular and open-source cocktail dispensing robot!
Designed by Rob and Pierre of Party Robotics, Bartendro is a precision cocktail dispensing robot. Simply sign into its WiFi network using your mobile device, and a friendly user interface allows you to select, customize, and finally pour your drink. Ten seconds later you'll be sipping on a perfect mojito or martini, no tip required.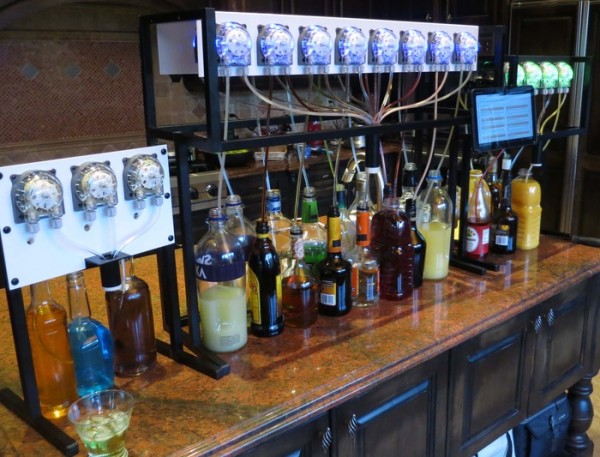 As former Burning Man sculpture designers, both Rob and Pierre believe strongly in the Maker culture. As such, all of their bots include products and tools that have emerged from this movement. "We use Raspberry Pi computers and chips that go into the Arduino prototyping platform to produce a simple, elegant and precise machine," explain the designers. "We have also open sourced the software and the hardware that goes into building these bots. If you would like to build your own bot or buy one from us and make it even better, we would be delighted!"
The Bartendro 15 (pictured above, middle) is the biggest and baddest robo-mixologist to emerge from Party Robotics. With 15 precision peristaltic pumps it can make about 30 unique drink recipes.
Now, the pair have taken to Kickstarter to make this amazing, open-source bartender bot available to the drinking masses. Early supporters can snatch a ShotBot with one dispenser for $249, a Bartendro with three for $375, a model toting seven for $1,199 and a fourth version carrying a whopping 15 for $2,499. But clever DIYers can get the essentials for creating their own by donating money for individual dispensers and the Linux boxes that power them.