New York is a city made of bold statements and gestures that are sometimes backed up by bold deeds. For this reason, the Big Apple is the focus of the Urban Green Council's latest plan to reduce the CO2 emissions in the city by 90 percent by the year 2050, mostly through the use of better building materials and techniques.
Many emissions reductions projects have been planned in many others cities before with middling success. What makes this long-range plan, called "90 by 50," a bit different is that it is based almost entirely on green building technology that is currently feasible and somewhat affordable. As the report says, "The greatest obstacle to a responsible approach to climate change mitigation is a sense that the problem is insoluble."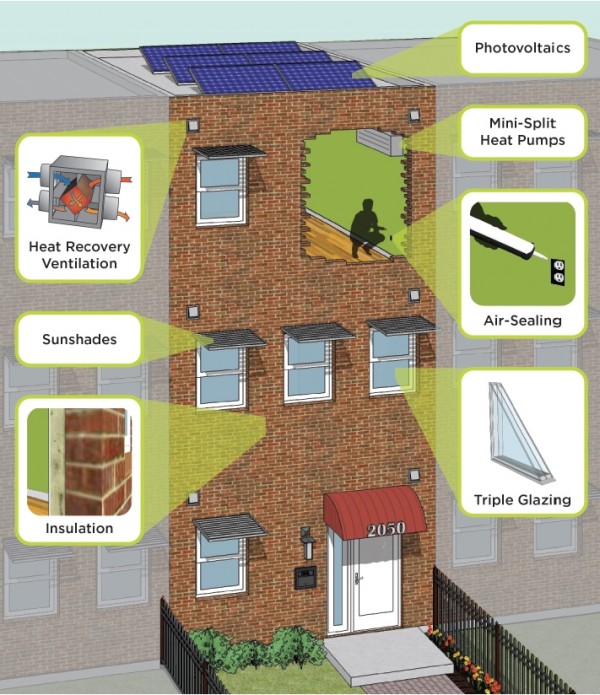 New York already has a plan in place called plaNYC 2030 that calls for a 30 percent reduction in CO2 emissions by 2030. However, the Urban Green Council says the goals are no longer bold enough for what is needed to make a dent in the city's air quality. The report analyzes several typical residential and commercial building types in the city – single-family homes, row houses, low-rise and high-rise masonry, high-rise curtain wall glass, etc. – and finds that the ambitious 90 percent reduction target can be met mostly through renovations of existing buildings.
"The building sector is the source of 75 percent of New York City's greenhouse gas emissions," said the Urban Green Council in its introduction to the 90 by 50 report.  "Heating and cooling loads can be reduced through retrofit measures to a point where all thermal loads can be met by heat pumps, eliminating building fuel use."
The effort needed to make these improvements, of course, will be daunting. A total of 5.65 million residential units and 86,000 commercial buildings would qualify for the retrofits needed. Some of these will include:
Replacing 99 million windows with energy-efficient triple-paned windows
Adding of 5.7 billion square feet of insulation with an average rating of R-20
Installing sunshades on all south-facing windows to reduce solar gain
Installing rooftop photovoltaic cells wherever possible
Reducing vision glass to no more than 50 percent on new curtain-wall construction
Increased air sealants on windows, doorways and other thermal bridge areas to prevent heat loss
Transitioning from central steam heating to mini-split electric heat pumps for residential units
Adding heat recovery ventilators in residential units to control moisture buildup, add fresh air to the living environment and prevent mold growth caused by extra insulation and sealants
"The resulting electric energy used in 2050, supplied by carbon-free sources, will be slightly more than today's, while peak demand will increase significantly," the report says, after these improvements are made. "Over the period examined, the savings from energy use reductions will be comparable to the amortized cost of the improvements."
Other non-building parts of the 90 by 50 proposal include the electrification and expansion of mass transit and freight rail, tougher federal fuel economy standards, and a greater emphasis on waste reduction and wastewater treatment.
To download the full report, go to the Urban Green Council's 90 by 50 page.