They might have been preaching to the converted, but nonetheless Propel Fuels got a great response when it sold algae-derived biodiesel at four San Francisco Bay Area stations last last year.
Propel, working with renewable oil company Solazyme, sold a blend of 20 percent algae biodiesel and 80 percent petroleum diesel for 30 days at stations in Redwood City, San Jose, Berkeley and Oakland. The fuel, called Soladiesel, was a hit with consumers: 92 percent said they preferred it for its environmental benefits and 70 percent said they'd be more likley to buy a biodiesel if it had the algae component, the companies said.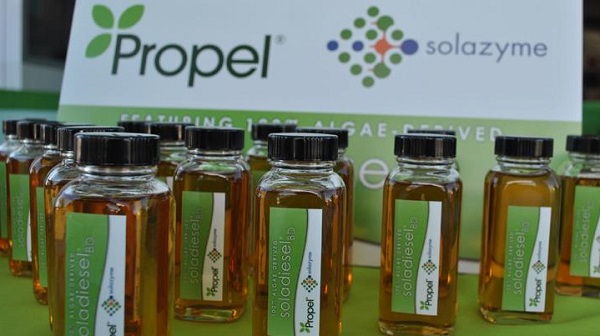 That preference for the stuff was reflected in sales: The companies said the Propel stations that offered Soladiesel saw their volumes increase 35 percent.
It's hard to know, however, if that enthusiasm could be sustained in normal marketing of the product, at least in the near-term; just 40 percent of the consumers said they would be willing to pay more for algae-derived fuels.
And indeed, with algae-derived fuel in its infancy, the price can be high (this has been an issue in U.S. military purchases from Solazyme). Soladiesel was sold at a "cost-competitive price with other biodiesel" during the promotion, but Solazyme suggested such prices wouldn't be possible on an ongoing basis until the industry scales up and larger volumes come online. When might that happen? Well, last December, Solazyme said it conducted fermentations at ADM's Clinton, Iowa, facility in 5000,000-liter vessels, four times the size it uses at a Peoria, Ill., plant. The company said it is targeting annual production of 20,000 metric tons of oil starting in early 2014 at the ADM facility, and eventually wants to expand to 100,000 metric tons.
Solazyme definitely thinks markets are developing for its fuels.
"Our fuels have already been successfully demonstrated in fleet vehicles, corporate buses, military applications and the first U.S. commercial flight on biofuel," Bob Ames, vice president of fuels for Solazyme, said in the statement with propel. "The successful pilot program with Propel further exhibits strong consumer appetite for the superior performance and environmental properties of Soladiesel."
The companies cite testing by the National Renewable Energy Laboratory that shows that the 20/80 belend "significantly outperforms ultra-low sulfur diesel in total hydrocarbons, carbon monoxide and particulate matter tailpipe emissions. This includes an approximate 30 percent reduction in particulates, a 20 percent reduction in CO and an approximate 10% reduction in THC."
One issue that will bear watching if algae does scale up is its ability to follow through on the sustainability promise it makes; a big report last fall from the National Research Council said going big-time with algae could use too much water, energy and fertilizer.