Steven Chu, the Nobel Prize-winning physicist who led the Obama administration's push to develop clean energy and in the process became a lightning rod for Republican attacks, made official on Friday what had been expected: He will step down as head of the U.S. Department of Energy as soon as a new secretary is confirmed.
"While I will always remain dedicated to the missions of the Department, I informed the President of my decision a few days after the election that Jean and I were eager to return to California," Chu wrote in an open letter to DOE employees. "I would like to return to an academic life of teaching and research, but will still work to advance the missions that we have been working on together for the last four years."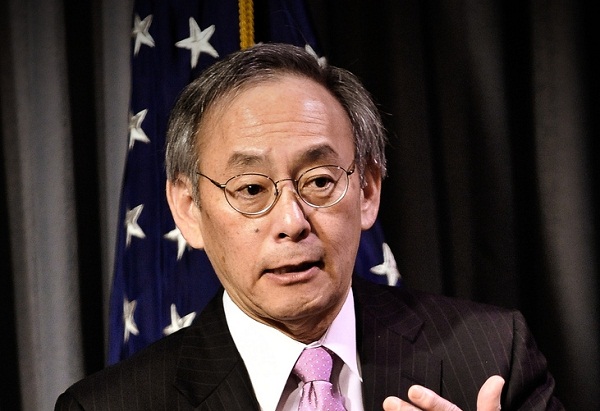 In the letter, Chu catalogued the highlights of his tenure at DOE's helm, a period marked by the administration's use of the 2009 stimulus to pursue a broad range of clean energy goals, from funding cutting-edge research through the ARPA-E program, to supporting electric vehicle development, to backing the construction of huge solar power plants in the Desert Southwest.
"In addition to our approximately $25 billion annual budget, we were entrusted by Congress to make a $36 billion investment through the Recovery Act to help ensure that the clean energy jobs of tomorrow are being created here in America today," Chu wrote. "And we made this investment with a robust review process that brought a new level of expertise from inside and outside the Department to ensure that decisions were based on the merits of each applicant."
Chu's claim of a "robust review process" was a thinly veiled rebuke to critics who used the bankruptcy of the California solar manufacturer Solyndra, a company backed by more than a half-billion dollars in federal loan guarantees, to try to tar the department's clean-energy push.
But Chu made it clear that he saw the administration's efforts as a success.
"In the last four years, the production of clean, renewable energy from wind and solar has doubled – driven in part by our Administration investments in the development and deployment of the latest technologies," he wrote. "Installations of solar photovoltaic systems have nearly doubled in each one of the last three years, exceeding 1.8 gigawatts in 2011. According to (American Wind Energy Association), last year 42 percent of new energy capacity in the U.S. was from wind – more than any other energy source."
Chu will leave D.C. at about the same time as another key player in the administration's clean energy designs, Interior Secretary Ken Salazar, whose department was responsible for approving many of the utility-scale power developments DOE supported.
Washington insiders wasted little time in speculating who might replace Chu. The website Politico said "a short list" of possibilities "includes former North Dakota Sen. Byron Dorgan, former Colorado Gov. Bill Ritter, former Washington Gov. Chris Gregoire and former Michigan Gov. Jennifer Granholm."