And here we thought the Xor XO2 scooter was portable.
The SSIKE is an electric scooter that redefines just how small an electric scooter can go. The diminutive vehicle looks like someone took a Segway, shrunk the platform where the rider normally stands to the width of an average person's foot, then moved it to the sides of the front wheel. At least riders feel some semblance of stability on the platform between the two back wheels of the similarly sized MyGoPet tri-wheel EV.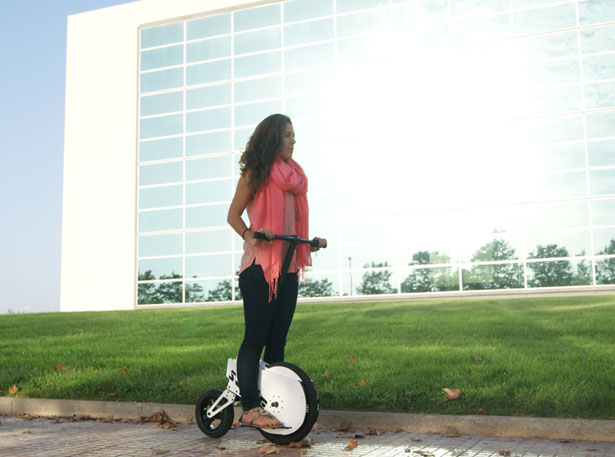 But Spain-based SSIKE manufacturer Asen Innovacio says riders will find plenty of stability in the SSIKE, which rides similar to the Segway but looks from videos to be even more maneuverable. The electric scooter is powered by a 250W high torque "brushless" electric motor housed in the front wheel. Range is 24 miles between recharge (or two hours of continuous use), with the SSIKE getting a top speed of 12 miles per hour. Regenerative braking trickles back electricity to the battery. This includes manually pushing the SSIKE even if the battery's out of juice.
The main advantage of the SSIKE is its weight, or lack of. The entire electric scooter weighs slightly over 25 pounds and, with the collapsible handlebar, easily folds to fit in most cars' trunk. More adventurous (and stronger) owners could mount the SSIKE on a backpack for overland transport between parks, for example.
Prospective owners of the SSIKE get the electric scooter, plug-in charger, toolkit (with tire repair), and a user manual. Cost would be around $2,100. SSIKE says it takes between 5 to 15 minutes for an average person to learn how to ride the SSIKE.