U.S. geothermal energy didn't exactly grow like gangbusters in 2012, but another 147 megawatts of generating capacity came online, the Geothermal Energy Association reported on Tuesday. In addition to those literal gains, the industry metaphorically dug up even more power, finding that capacity increases at existing plants over the years had added another 128 megawatts of capacity.
The report pointed to signs of possibly bigger growth in the next three years – the word "boom" was even used – but said much will depend on the policy and regulatory environment, in addition to the typical, omnipresent challenges of bringing projects to fruition.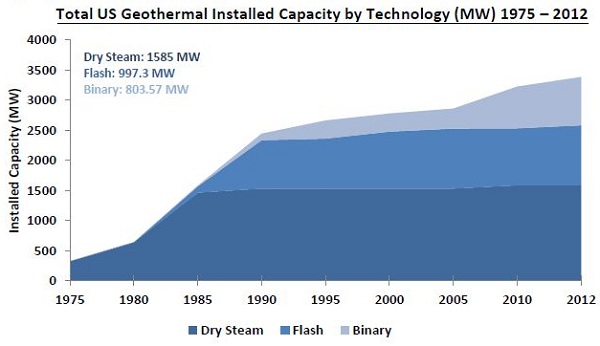 The latest additions and revisions brought installed capacity to 3,386 MW as of the end of last year. That's more than any other country in the world, but it's also about a quarter of what wind power brought online in 2012 alone. Geothermal capacity can be more valuable because of its steady production, but the point remains that compared to its flashy brethren, geothermal has been something of a laggard renewable energy source.
Still, even 5 percent growth is better than none at all, especially for an industry that from around 1990 until 2005 was practically flat.
"We're still getting growth," GEA Executive Director Karl Gawell said in a news conference. "It's slow growth, nowhere near where wind and solar is, but it's still there."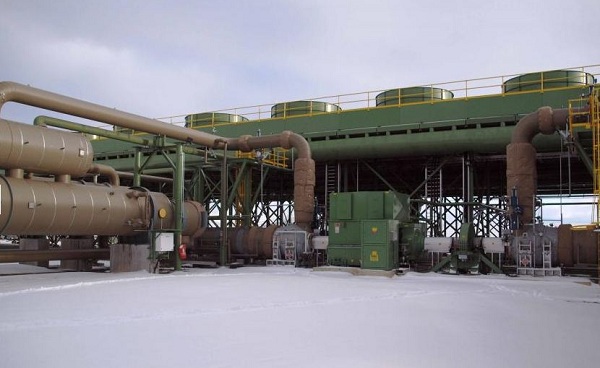 Here's where it came, according to the GEA report:
The new geothermal capacity installed in 2012 came from five different geothermal companies. EnergySource completed their John L. Featherstone Plant with a capacity of 49.9 MW, ElectraTherm brought one of the first co-production plants in the US online at Florida Canyon Mines, and Terra-Gen's Dixie Valley expansion became operational. Additionally, Ormat Technologies brought its 18 MW Tuscarora geothermal power plant online in Elko County, Nevada and a second 30 MW plant online called McGinness Hills. U.S. Geothermal expanded electricity generation at its San Emidio resource by replaced old generating equipment at the site with a new 12.75 MW power plant and completed a 30 MW plant in Oregon.
Geothermal is one of the more speculative renewable energy forms, with long development timelines that always seem to be fraught with obstacles, be they financial or technical. But based on what companies reported, the GEA said the next few years could see significant expansion:
Up to 14 plants could become operational in 2013 and 9 new plants in 2014 and 10 more plants in 2015, by over 20 different companies and organizations making 2013, 2014, and 2015 three of the most significant boom years for geothermal in decades.
The result could be around 600 MW of capacity additions by 2016, a three-year total that would surpass what the industry has mustered over the past eight solid years of growth.
While enhanced geothermal system projects have received a good deal of attention, the report noted that just 2 percent of the 175 projects that are currently at some stage of development fall into that category.
All of the geothermal in the U.S. is in the West, and most of it – 81 percent – is in California. Looking ahead, Oregon is seen with the highest potential growth rate, but only 29 percent of its forecast power is actually under development, so it could be a while before the state's geothermal potential is realized, the report said.